| | |
| --- | --- |
| Posted by moodhacker on February 5, 2017 at 4:05 PM | |
German Chancellor Angela Merkel urged Alexis Tsipras to cooperate with Greece's bailout auditors, leaving the prime minister to face his country's creditor institutions without political intervention by the government in Berlin, according to Bloomberg

Meeting before a European Union summit in Malta on Friday, the two leaders agreed that necessary initiatives should be taken so that a pending bailout review can be completed by the end of February, a Greek official said in an e-mail to reporters. Merkel told Tsipras the priority is for Greece to resolve the standoff with representatives of creditor institutions over fulfilling the terms of its emergency loans, according to another official. Both officials asked not to be named because the meeting was private.
Greek Finance Minister Euclid Tsakalotos said Thursday that about a third of the outstanding issues are subject to political negotiations, amid persistent calls by officials representing the International Monetary Fund, the European Central Bank, the European Commission, and the European Stability Mechanism for additional reforms in Greece's labor market, energy market and public finances Guardian wrote .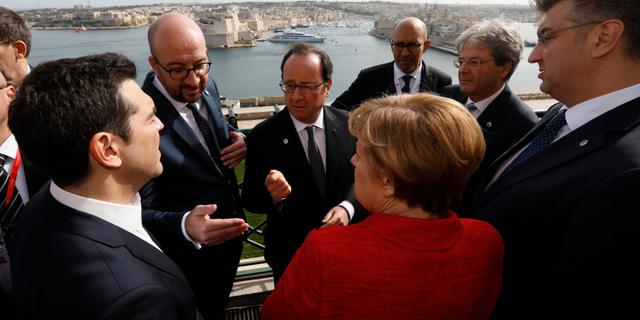 The country's beleaguered prime minister, Alexis Tsipras, of the left-wing Syriza party, was expected to raise the concerns with German chancellor Angela Merkel and other EU leaders in Malta on Friday, wrote the express.co, stressing that analysts have already begun to sound alarms of impending doom on its article:. Greece on the brink of financial disaster & could spark 'EU RUPTURE', experts warn"

The Guardian published it's article by Larry Elliott,  "Greek debt crisis: an existentialist drama with no good end in sight", on

Sunday 5 Febr 2017

"Elected as a leftwing firebrand two years ago, Tsipras has had a rapid fall from grace. He caved in when pressure was put on him by the Europeans in the summer of 2015 and having run for office on an anti-austerity programme eventually agreed to even more draconian bailout terms than the previous centrist governments. For an increasing number of Greeks, Tsipras is no longer an iconoclast; he is just another man in a suit.
With public support waning, Tsipras is once again hanging tough. He aroused the ire of the Europeans by giving a Christmas bonus to pensioners and free school meals to poverty-stricken families. Europe responded by suspending the limited debt relief it has previously granted. Tsipras says Greece has already done enough and will suffer no more.
Europe is played by Schäuble, the German finance minister. He too is facing political pressures. The German public thinks enough aid has already been given to Greece, a country it considers is not doing enough to help itself. Opposition to further debt relief is strong and a general election is looming.
The third cast member is Lagarde, a former French finance minister and now managing director of the IMF. Under its own rules, the IMF is forbidden from putting money into a bailout if it thinks debt is unsustainable. There have been reports coming out of Washington that the Fund believes Greece's debt will rise to 275% of national income by 2060, which would undoubtedly put it into the "unsustainable" category.
The latest act in this play takes place in Washington this week when the IMF's governing executive board discusses Greece. One factor complicating the issue is that time is running out to get matters sorted before the first in a series of European elections kicks off in in the Netherlands in March.
A second is that the drama has a new character in the form of Donald Trump. There is little evidence that the US president gives a fig about whether Greece gets debt relief but he may have more than a walk-on role because the US is the biggest shareholder at the Fund and has the power to veto any decision it doesn't like.
Trump has expressed strong – and not exactly positive – views about the European Union in general and Germany in particular. Causing consternation in Brussels, the new American president has said the EU has become a vehicle for German interests. His trade adviser Peter Navarro has accused Germany of being a currency manipulator, using a "grossly undervalued" euro to run up a massive current account surplus.
But Navarro is right about Germany's current account surplus, which is running at almost 9% of GDP. This is not simply excessive but also in flagrant breach of EU rules. Berlin has refused entreaties from the IMF, the European commission and the G20 group of developed and developing nations to run down its surplus by importing more. That would benefit both powerful countries such as the US and the weaker bits of the eurozone such as Greece, but Germany has steadfastly refused to change its approach.
The Europeans have said they would like Greece to be sorted at the meeting of finance ministers planned for 20 February.
This could still happen if Tsipras decides that the only alternative to liberalising redundancy rules and pension reform would be to hold a "who runs Greece?" election that he would almost certainly lose.
Categories: Greece , Politics, Greece in Europe, Greek Social Animal