| | |
| --- | --- |
| Posted by moodhacker on December 17, 2016 at 12:00 AM | |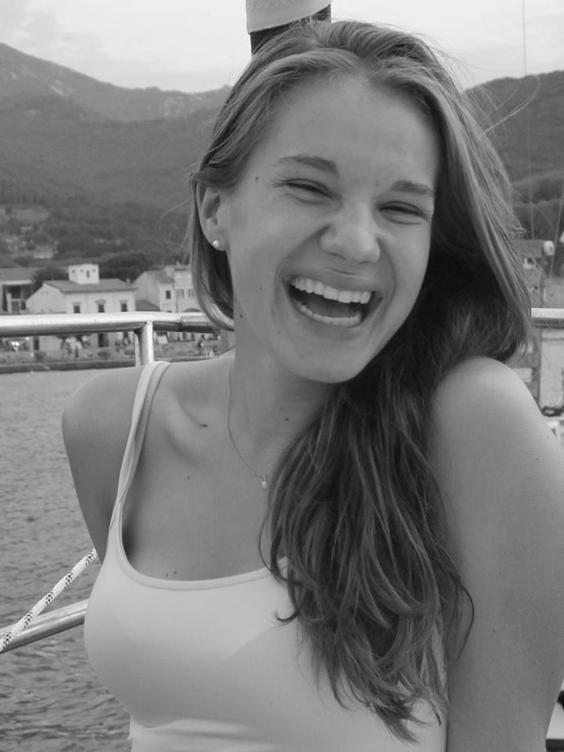 Maria Ladenburger was raped and murdered while cycling home from a student party in Freiburg, Germany (Facebook)

German authorities were in possession of information on the identity and fingerprints of the Afghan national  accused of the rape and murder of a 19-year-old girl in Germany, before November 2015, the Greek Justice and Citizen's Protection Ministries said in a joint announcement on Thursday, avoiding though to mention why No International Warrant for Arrest was  declared for him in Greece.  
The Afghan native who is identifdied as the main suspect for the crime of raping and murdering Maria Ladenburger, the daughter of a senior European Union official last October in Freiburg, Germany,  had been just three years ealier been sentenced to prison in Greece.for  the attempted murder of a young woman when he stole  her and then pushed her off a 8-meter cliff on the Greek island of Corfu,as it has been revin Germealed and identified by the German auhtorities after the German's student rape .
The German authorities are reportedly talking with their Greek counterparts to see how he was able to migrate to Germany despite his conviction.
He was sentenced to 10 years in prison, he was transferred to the Greek mainland, where he served around 18 months of attempted murder and then was released by the "law" , actually according to a new law the leftist governent had passed,  in October 2015.
Accoding to this law. Hussein was able to be placed on parole with the requirement to report topolice every month.
However, officials lost trace of him two months after he was freed
He is then thought to have journeyed onwards to Germany along the Balkans route.
The suspect left Greece shortly after being placed on parole, but only a nationwide search was initiated by Greek authorities, not an international one. Neither Interpol nor the Schengen Information System (SIS) were alerted.
The nightrmarish background of the story came on the peak time of European countries'  expressed fears that economic migrants and also terrorists , even Islamic fighters, are slipping from Greece to EU countries unchecked, due to incomplete control measures and border control in  Greece. 
The German Interior Minister Thomas de Maizière said it was "very upsetting" that Greece had not launched an international search when the man now suspected of raping and murdering a German student went missing in their country.
De Maizière said that if the Greeks had launched an international search, "the suspect could have been detected at various stages of the systematic checks made by German security authorities".
German Police confirmed, using the suspect's fingerprints, that Hussein had been jailed in Greece by a juvenile court for robbing, and urder attempt since  2013.
A Greek lawyer also told DPA that she recognized the suspect as the man she had defended in the case in 2013.
"I have no doubts," said lawyer Maria-Eleni Nikopoulou.
.
The Federation of German Criminal Police (BDK) called the situation a "blatant failure" on the part of Greek authorities.
The fact that the data on the fugitive Afghan was not shared with the SIS meant that he was not identified by German police as a wanted criminal when he first applied for asylum in Freiburg in November 2015.
Greek media also slammed security officials for their mishandling of the prison release programme and for failing to alert Interpol.
But Greek authorities have defended their decision to let Hussein out on parole.
"His release was legitimate and completely in line with the law," Eftyxis Fytrakis from the Greek justice ministry told Bild.
"His behaviour was excellent. He attended school at the 6th and 7th grave levels and fulfilled 581 days of volunteer work."
The Greek ministries countered that German authorities had information on the suspect's identity and also that his asylum request had been rejected in Greece but had not asked Greek authorities for more information.
The Afghan had applied for asylum in Greece in 2013, stating his age as 17. The request was rejected and all the information about him, including his finger prints, were entered into the Europe's EURODAC database and were available to all other European countries where he might apply for asylum, the ministries noted.
In spite of this, when he applied for asylum in Germany in 2015, where he again gave his age as 17, he was added to a list of unaccompanied minors.
Spyridoula Haidou, the  20 years old student robbed by Hussein, then thrown from the hill and left badly injured , Corfu, 2013

Categories: Greece 's Armageddon CrossRoads, Trafficking through Greece Cross- life- Roads, Greece in Europe