| | |
| --- | --- |
| Posted by moodhacker on December 15, 2016 at 3:35 AM | |
Greek police is investigating possible ties to terrorist groups in Syria of the man who was arrested abusing a chid in the camp of Chios, which he claimed was his own child
The release of a shocking video footage of the 31-year-old Syrian refugee tormenting the young boy in the showers at the Souda refugee camp in Chios, who the man claimed to be his son, has led to his arrest and an extended UNHCR investigation
The  video showing the abuse of the three-year boy in the Souda camp  has been posted in social meadia, instigating the investigation by the  Greek authorities. but also the UNHCR. The video shows the child abused by the man who holds the camera to video tape the incident,  and takes place inside a shower in the camp. The video, allegedly recorded on Monday, shows the boy receiving slaps and blows from the man, it shows him falling down and the man lifting him up and continuing the abuse. Finally another man tells the abuser to stop.
According to ANA-MPA news agency, Deputy Mayor Giorgos Karamanis, made a formal complaint about the incident, along with the charity organization Smile of the Child.
The arrested Syrian has  argued to police his wife is in Turkey with their other child, and he aimed by the video make her cross the sea to  Greece with their other child, claims that are being looked into by the UN services in Chios
the United Nations High Commissioner for Refugees investigating  the perpetrator's allegation sought the woman he was referring to as his wife and mother of the abused boy.
But the Greek anti-terrorist unit found photographs showing the arrested man posing armed. Further investigation led to information that he might be linked to the Islamic State terrorist organization. The Greek police counterterrorism unit along with the National Intelligence Service are now involved in the investigation.
The authorities are also examining the prospect of the suspect actually having kidnapped the child from a Syrian family and using the video to blackmail them.
The Chios prosecutor has ordered the custody of the child be given to an NGO operating in Chios.
For the Refugee Crisis No Way Out on the Aegean islands , and the ISIL groups in Greece information  visit our special page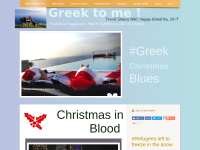 Categories: Trafficking through Greece Cross- life- Roads, Greece 's Armageddon CrossRoads, Your Safety in Greece