| | |
| --- | --- |
| Posted by moodhacker on December 4, 2016 at 5:00 AM | |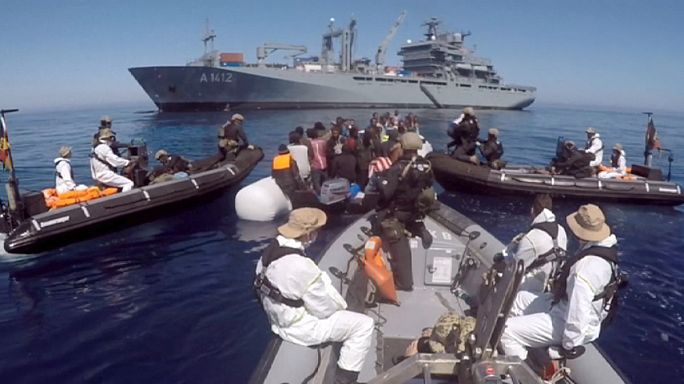 EUROPE is on the brink of war as Turkey gathers fleets of boats to ship 3,000 migrants a day to Greece in retaliation over the European Union's (EU) vote to freeze accession talks, the Express wrote 
During a speech in Istanbul on Saturday, the country's president warned: "If you go any further, these border gates will be opened. Neither me nor my people will be affected by these dry threats. It wouldn't matter if all of you approved the European Parliament vote.
"We are the ones who feed three-three and a half million refugees in this country. You have betrayed your promises."
Greek intelligence
Greek intelligence officers have discovered the Turkish plans which they say involve thousands of dinghies and motorboats already being gathered along Turkey's western coast, according to express co
The analysts said Syrian migrants are preparing to board the vessels and wash up on Greek shores "within a matter of weeks".
National intelligence officials estimate at least 3,000 undocumented migrants could enter Greece each day under the plan.
They said the plans are being supported by Recep Tayyip Erdogan who has been battling the European Parliament since they voted to halt talks to let Turkey into the union during the last weeks .
Athanassios Drougas, an intelligence expert in Athens, told The Times: "No one is underestimating Mr Erdogan and his unpredictability these days.
"These plans, along with explicit threats that the Turkish president has made in recent weeks, have Greece's joint chiefs of staff seriously concerned.
"They are fearful and they have told the political leadership here that if Turkey opens the floodgates yet again, Greece, in its current state of financial and social distress, will not be able to withstand the shock...."
"...It will spell war or wreak the havoc of one."
Greece is already struggling to cope as more than 60,000 refugees are stranded in the country due to several Balkan states closing their borders last February, leaving them with nowhere else to go.
Five Aegean islands close to Turkey's western coast are estimated to be hosting 16,000 asylum seekers in limbo.
Dr Drougas, added: "It's no surprise that the Hellenic Navy and special units have been undertaking increased exercises around Greek islands, mainly in the northern Aegean, for fear of a sudden attack in the case of a dramatic deterioration in Ankara's relations with the EU."
Intelligence analyst Dr Drougas, added: "With Europe in a mess, Mr Erdogan feels he has a free hand in trying to blackmail the bloc using the refugee crisis as leverage."
the Commissioner 
The European Union's commissioner for migration urged EU member states on late November to take more refugees and send more asylum experts to help with the processing of migrants in countries such as Greece, where tensions have escalated at overcrowded camps.
"The crisis we are all confronted with is far away from being over soon," EU Migration Commissioner Dimitris Avramopoulos said during a forum in Athens organised by the European Asylum Support Office.
 European Parliament politicians had voted for the freeze after the Turkish President continued to arrest, incarcerate and purge thousands of citizens, including many intellectuals, following a failed coup in July.
Categories: Greece 's Armageddon CrossRoads, Trafficking through Greece Cross- life- Roads, Greece in Europe