| | |
| --- | --- |
| Posted by moodhacker on November 23, 2016 at 10:05 AM | |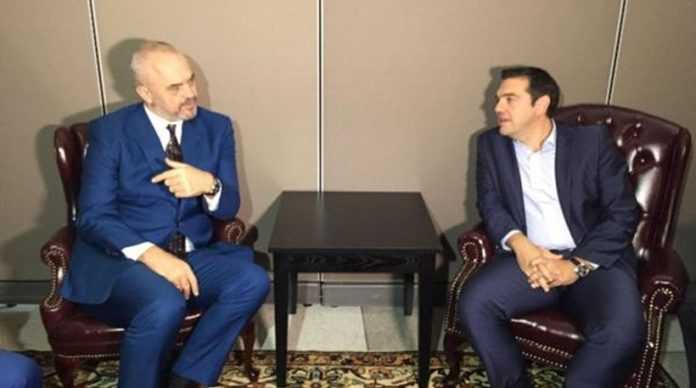 Greek minority issues, including those relating to property, are fundamental elements of Greek-Albanian relations, Foreign Minister Nikos Kotzias said in a letter sent on Wednesday, replying to questions tabled by MPs on the demolition of Greek minority-owned residences and businesses in Himara, southern Albania.
Albania's nationalistic rhetoric , Tsipras-Rama talk 
One day earlier  the Prime Ministers of the two countries had spoken over the phone, where  Alexis Tsipras  had noted that the protection of the rights of the ethnic Greek minority was a foremost issue in relations between the two countries and a fundamental condition for Albania's European progress.
Tsipras had undelined  that recent actions and increasingly nationalist rhetoric on the Albanian side undermined a climate of confidence that was necessary for the progress of bilateral relations.
Greek Prime Minister Alexis Tsipras spoke on the telephone with Albanian Prime Minister Edi Rama on Tuesday, at the latter's request., the ana-mpa wrote.
A press release from the Greek prime minister's press office said that the two leaders emphasized the importance of bilateral relations for the benefit of both the Greek and Albanian peoples, as well as the surrounding region.
The Greek prime minister expressed his continued dedication to this goal but stressed the nationalistic rhetoric from Albania's side 
Tsipras highlighted the need for substantive steps and tangible results in the two countries' cooperation, for which Greece has set a series of initiatives in motion. In addition,
the Himara issue
Kotzias stressed on Wednsday that these issues were also linked to the existing state of Albanian justice and rule of law, alongside Albania's standing obligation under treaties to respect and protect human and minority rights throughout its territory. Reforms in the justice sector and protection of human and minority rights were two of the five key priorities that Albania must implement fully and in a sustainable way, as a condition fors,  examining the start of EU-Albania accession negotiation he pointed out.
The minister underlined that the "illegal and provocative planning to demolish the properties of our diaspora in Himara and the attempt to implement this are a blatant violation of human, minority and property rights of the members of the Greek ethnic minority of the region."
These actions showed clearly that Albania's claim that minority rights were respected throughout the country was false, Kotzias added.
The minister accused Albania of continuing the anachronistic practice of "minority zones" established under the old Hoxha regime "beyond which minority rights are not recognised".
"Thus in areas like Himara, where a significant population of Greek descent traditionally lives, minority rights are not recognised.
It is a long-standing effort on Tirana's part to 'Albanise' those regions and eradicate their Greek element," he added.
The Greek side had responded to the illegal Albanian arrangements in Himara by first expressing its concern and then, following http://www.balkaninsight.com/en/article/cameria-becomes-the-focus-of-albanian-pm-interview-in-the-greek-tv-11-23-2016#sthash.YToRx2zc.dpuf" target="_blank">Albania's continued negative stance, by lodging a demarche with the Albanian ambassador in Athens and informing international organisations and its EU partners, Kotzias said.
"We have made it absolutely clear to the Albanian side that the Greek government and public opinion put great emphasis on the defence and protection, in practice, of all the rights of the ethnic Greek minority, including the right to property/ownership. The foreign ministry is closely following all the issues that concern ethnic Greeks in Albania and always proceeds to take the appropriate actions to defend and protect their rights and to best serve our national interests generally," Kotzias said.
The degree to which Albanian adheres to these commitments is being monitored, assessed and is a prerequisite for further continuance of its European accession course," he added.
the cham issue
Earlier in the week , Albanian Prime Minister Edi Rama has again returned to the vexed issue of the exiled Cham community in a Greek TV interview broadcast on Tuesday.
Rama said it was a perfect Balkanic paradox that Albania and Greece remained "de jure" in a state of war despite signing a treaty of friendship in 1987.
In an interview with journalist Alexis Papahelas, Rama spoke about pending issues between the two countries at a time when the tensions have risen.
Speaking about the Greek law of 1940 declaring a state of war between the two states - which Greece adopted after Italian occupation forces in Albania attacked Greece and never abolished - Rama said this law remained in force partly to stop the Albanian Cham community from reclaiming its seized properties in Greece.
The Chams, an ethnic Albanian community living in the north of Greece, were exiled en masse after World War II, accused of collaboration with the occupation forces.
In September, European Enlargement Commissioner Johannes Hahn was accused by Greece of siding with Albania for requesting a solution to the Cham issue.
"I have told my friends in Greece to abolish the law. I said it to George Papandreou, to Antonis Samaras and [current leftist Prime Minister] Alexis Tsipras, whom by the way I respect," Rama said.
The Albanian leader said it was absurd that members of the Cham community had no right to ask for their properties in Greece back, or even to visit them.
"How is possible that 80-year-old women and men who were forced to leave their homes don't have the right to go there again?" he asked.
"How is possible that these Albanians are not allowed to cross the border of a neighbour, a big European country like Greece?" Rama wondered.
Rama was asked also about the detention of two Albania Foreign Ministry drivers on the border on November 13.
On a mission to deliver books for Albanian children in Greece, the Greek authorities accused them of plotting to spread irredentist materials.
"I don't think it is irredentist to tell children that there was an area called Chameria [in Greece] where Albanians lived," said Rama, adding that Albania laid no claim to this area.
"I challenge you by stating that there is no map of Greater Albania in any Albanian schoolbooks," Rama noted.
The Albanian Prime Minister said that two countries should also handle the m
sources: ana-mpa ,balkaninsight
Categories: Greece and Neighbors , Greece in Europe, Greece , Politics