| | |
| --- | --- |
| Posted by moodhacker on November 6, 2016 at 4:40 AM | |
                                         During a July 2011 trip to Greece as Secretary of State, Clinton visited the Acropolis Museum
FBI publishes Revealing email  for the Greek crisis sent to Hillary the day the first Memorandum was signed in 2010
 ( translated by Michalis Ignatiou post )
It was May 6, 2010 when the Greek parliament voted the first Memorandum on the mobilization of the country's support mechanism, so the US Secretary of State and current presidential candidate Hillary Clinton was informed by an e-mail about the situation in Greece. The e-mail, titled "The political implications of Greek / European debt crisis", and  released now by the FBI, under the FBI investigation for the e-mail of Hillary Clinton e-mails, came from Marie Sloter (lawyer, political analyst in foreign policy, political scientist and commentator), which served as policy planning director of the State Department under Clinton from January 2009 until February 2011.
Sloter wrote to her boss, Hillary:
"As you know, the common hope of the European Union, IMF and US government behind the mobilization of the Greek rescue program is that this program will provide time for Spain, Portugal, etc.
From the spread of the bonds to the decline in share prices, most indicators respond with doubt. The former IMF chief economist and columnist of New York Times (and blogger influential trader on the bond market) Simon Johnson has a significant answer to this hope in today's New York Times article ».
Sloter had forwarded to Clinton the Johnson's article text , which stated that the rescue plan for Greece was "dramatic", and unprecedented, and obviously abstained from the stabilization of the eurozone.
He also said that the policy of "tacit ( silent) surplus" imposed on Greece by its lenders was "brutal" since almost 80% of the revenue from the Greek budget would go to the Germans, the French and the other creditors of Greece and "mainly to the banks '.
Johnson stressed that in case the objectives for the development would not be confirmed, "would the Greeks be ready for more austerity so that they could pay the Germans?". And added: "Even if all goes well, the Greeks seem unlikely to welcome this version as  "their new reality, '
Sloter noted on the same email: "As the EU has no experience for most of the pressing issues European Union has been facing, my staff tries to see which are the least bad of the options ...."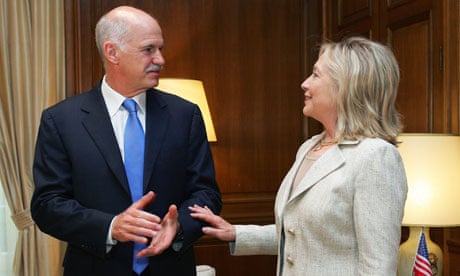 'Greece will not go bankrupt': prime minister George Papandreou, left, with Hillary Clinton, US secretary of state, who spoke in support of the Greek government's austerity measures, July 17, 2011 Photograph: Simela Pantzartzi/EPA

Hillary sent classified email to Chelsea about Greece debt crisis. Chelsea's husband run hedge fund trading Greek bonds. Insider trading! 40 million Greeks are gonna be pissed. Making money off another crisis.
Hillary Clinton deleted a 2009 email in which she forwarded classified information to her daughter, Chelsea.
The email was released on Friday by the State Department. It is one of thousands of documents recovered by the FBI from Clinton's private email server.
 The Dec. 20, 2009 email chain, entitled "Update," started with a message from Michael Froman, who served as a deputy assistant to President Obama and deputy national security adviser for international economic affairs.
The email, which is redacted because it contains information classified as "Confidential," was sent to Jake Sullivan, Clinton's foreign policy adivser at the State Department, and several Obama aides. Sullivan sent it to Hillary Clinton who then forwarded it to Chelsea, who emailed under the pseudonym "Diane Reynolds."

 from the State Department 
The entire text of the classified email is redacted because it contains foreign government information.
 http://dailycaller.com/2016/11/04/hillary-deleted-email-showing-she-forwarded-classified-information-to-her-daughter/
The email was not classified at the time, continues the InvestmentWatchdog article .  This is old news. It has been out since July
Hedge fund manager Marc Mezvinsky had friends in high places when he bet big on a Greek economic recovery, but even the keen interest of his mother-in-law, then-Secretary of State Hillary Clinton, wasn't enough to spare him and his investors from financial tragedy.
In 2012, Mezvinski, the husband of Chelsea Clinton, created a $325 million basket of offshore funds under the Eaglevale Partners banner through a special arrangement with investment bank Goldman Sachs. The funds have lost tens of millions of dollars predicting that bailouts of the Greek banking system would pump up the value of the country's distressed bonds. One fund, exclusively dedicated to Greek debt, suffered near-total losses.
Clinton stepped down as secretary of state in 2013 to run for president. But newly released emails from 2012 show that she and Clinton Foundation consultant, Sidney Blumenthal, shared classified information about how German leadership viewed the prospects for a Greek bailout.
Clinton also shared "protected" State Department information about Greek bonds with her husband at the same time that her son-in-law aimed his hedge fund at Greece.
That America's top diplomat kept a sharp eye on intelligence assessing the chances of a bailout of the Greek central bank is not a problem. However, sharing such sensitive information with friends and family would have been highly improper. Federal regulations prohibit the use of nonpublic information to further private interests or the interests of others. The mere perception of a conflict of interest is unacceptable.
Through its press representative, Eaglevale declined to comment for this story. Clinton's campaign press office did not respond to a request for comment.
A former Goldman Sachs broker himself, Mezvinsky formed Eaglevale Management with two ex-Goldman Sachs partners in October 2011. As a "global macro" firm, Eaglevale's strategy is to seek profit opportunities in politically volatile situations. Mezvinsky set up several funds in the Cayman Islands, a secretive tax haven, with Goldman Sachs serving as Eaglevale's prime broker and banker. The giant brokerage firm has a checkered history of manipulating the value of Greek debt to the detriment of Greece.
http://www.foxnews.com/politics/2016/07/03/clinton-sought-secret-info-on-eu-bailout-plans-as-son-in-laws-doomed-hedge-fund-gambled-on-greece.html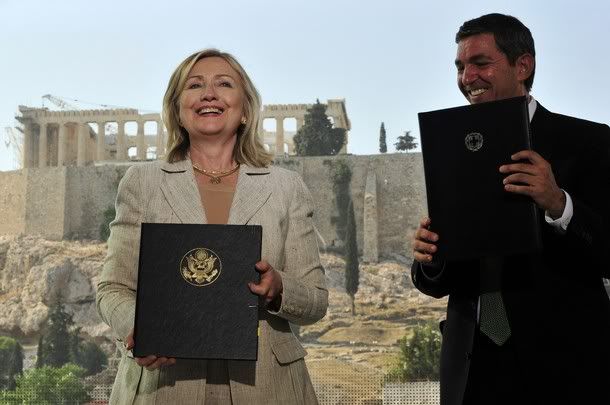 2011 Hillary visit to the Acropolis

On the same time the FBI emails were revealed, Hillary Clinton Issued her Position Paper on Greek Issues as Presidential Candidate,  Including Debt Relief for Greece
 In her campaign's position paper, which was released on November 4, Hillary Clinton mentions her record with Greece and Greek Americans during her time as First Lady, a U.S. Senator, and as Secretary of State.
"Hillary knows that the world is too complex and too complicated for the U.S. to go it alone. Greece is a historic friend and ally of the United States, and the bilateral relationship is critical in promoting regional stability and security, trade and investment, and the diversification of energy resources for Europe. ....
...Hillary supports Greece's efforts to restore fiscal stability, implement structural reforms, recover competitiveness and restart growth. And she strongly believes that the Eurozone should continue to take the necessary steps to keep its monetary union intact.
Hillary will continue to support efforts by Greece and its creditors to find solutions for Greece to meet its financial obligations, while providing a path forward for economic recovery through debt relief."
View the Complete Position Paper Here uploaded by Pappas Post 
Courage, Greece!
Categories: Greece , Politics, Greece in Europe, Greece and the USA