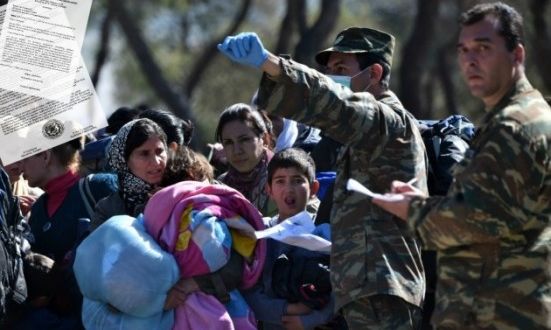 For two months and may be more the miitary personnel that  helped the country to realise the refugees hot spots throughout the country , were remaining unvaccinated, even though cases of communicable serious diseases were present in the refugees populations in the camps.
As a result, eight offices of the Greek Armed Forces deployed in a refugee camp in Epirus, north-western Greece, are recently found to be positive on tuberculusis by the skin test Mantoux, even though their military  association had repeatedly  asked for testings and vaccinations, especially in the Epirus camp, where a refugee positive in  tuberculusis before leaving his country, had remained untreated for months since he came in Greece, and after until he got seriously ill  
According to exclusive report by military affairs website OnAlert.gr, the issue first arose already before Easter beginning of May, when the Syrian refugee who was posistve in tuberculusis and was under treatment in his country as he later told to the doctors, arrived in the camp.  The refugee had stopped taking his medicine before arriving in Greece When the health services identified the TB-case, the refugee was removed from the camp but had apparently infected at least three kids , whihc were  hospitalized in the University Hospital of Ioannina at hte beginning of June 
According to Military Personnel organizations, the camp started its operation in April and the military personnel deployed to work there was sent to vaccination end of May. The Union of Military personnel for the region of Epirus had urged for the health protection of the personnel in camps already on March 29th 2016.
OnAlert.gr article stresses  that part of the money for the vaccination was paid by the officers.
Today , the positive tests have  alerted the Greek Armed Forces and the Land Forces General Staff sent doctors from the military hospital of Thessaloniki to the camp for further tests on the military personnel but also on their families.
Categories: Your Safety in Greece , Greece 's Armageddon CrossRoads, Health in Greece Update