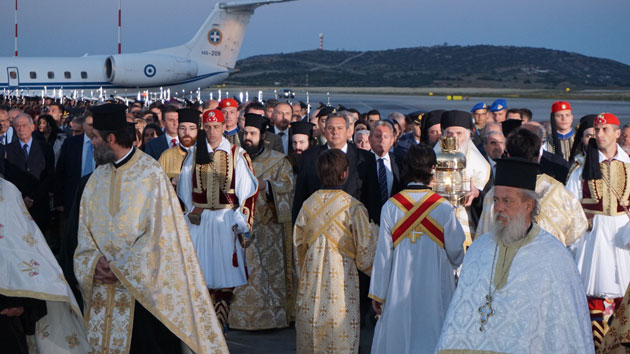 SYRIZA MP blasts tradition of transport of Holy Fire to Greece
Leftist SYRIZA MP Makis Balaouras criticised the Greek state for continuing to adopt the tradition of receiving the Holy Fire from Jerusalem during Easter as a head of state.
"An object, the fire, the Holy Fire arrives. It is something that does not happen in a civilised state", he said in Greek parliament.
The PM dubbed it a remnant of a pagan era during his speech.
"It is not a head of state and therefore should be received with state funds", he underlined. "Is the Vatican doing anything like it? Is England, Germany doing the same?", he quipped, adding that the light should be transported as it deserves to, but not as a head of state. Each Easter the Greek state receives the Holy Fire from Jerusalem as a head of state.
It is not the first time Atheists have blasted the Christian relligious traditions in Greece, "sacred"  symbols of Greeks' religious faithfulness .
And it's not the first time the leftist government members have declared Atheists blaming Orhtodox Christian  teletourgies for  "paganism" , bullying the faithfulness of the Greeks, who have rare things more than God to lie down their hopes in a state of mass dispair .
Easter is the Feast of Feasts  the Greeks , where the Sacred Passion is worshiped throughout the Holy Week before Easter in each corner of Greece.
   But What means Orthodox Faithfulness to the Greeks ? What makes a Greek?

Go to our Story
What Makes A Greek? Recent research says, Not an accident...
  What is the History and Scientific research of the Moracle of Holy Fire ?
Find out in our fully detailed article  
The Holy Fire Miracle and the Scientific Research
Visit our Easter in Greece Page 
Categories: Greece Cultural Heritage, Greece , Politics, Spiritual Greece and Faith