| | |
| --- | --- |
| Posted by moodhacker on February 17, 2017 at 3:35 PM | |
By a fully updated report on the worrying rise of violence and crime in Greece , Greece's Opposition party leader Kyriakos Mitsotakis, blamed Greek PM Alexis Tsipras in Parliament for his government "showing tolerance to crime and sympathizing the terrorists, while letting the streets with reduced presence of police, allowing criminals to merge with new terrorist groups, who reportedly maintain cells in downtown Athens, and leaving the citizens unprotected due to the leftist government's "obsessions on security" , speaking during a Parliamentary Query session on Friday February 17th.

Terror 
Kyriakos Mitsotakis personal accused Alexis Tsipras for some ministers of his cabinet, and specific initatives and stances of his government that "let pleased" the terrorists,  naming some of them 
.. This bothers you, but Why; Because he said that in a private conversation? Or because it was recorded recorded and leaked? And indeed, the Minister supports this option."



" Your first move as soon as you came to government was to cancel the creation of Highest Security Prisons that exist in all democratic countries. ...
...The only people who were pleased by this decision were hard-offenders and terrorists."











'Your former Minister of Citizen Protection m. John Panousis had mentioned many times being targeted by members of your own partySYRIZA, that showed great tolerance - to put it elegantly - in criminal matters.
"Aren't you embarrassed about all these ? You should be embarrassed also...
...for your political official  Mr. Lambros, who had undertaken the "negotiations" with several inmates at Korydallos Prison .
You should also be embarrased for your earlier Minister of Justice, Mr. Paraskevopoulos,  who by the first law he brought to Parliament he almost met all the demands of the terrosrists..."
"And whom all that cumbers? You Mr. Tsipras, personally. Who covers all that politically? You Mr. Tsipras. Finally tell us Mr. Tspras, Are you a Prime Minister or provocator? "
Crime 
"The data Mr. Tsipras is inexorable", Mitsotakis went on , listing incidents of the country's  criminal reality of the recent period :
In the first six months of 2016, we had 11% more robberies than in 2015. The same,
on car and motorcycle thefts. that increased by 9.5%.
I submit relevant information and relevant tables, which show the decrease of crime in the four years ( prior to your reignance) and the rise in crime during the two years of your gorvernance.
These are the official figures of Greek Police.
"Υou put the crime into the daily routine. And you have filled the news with images of daily vandalism...
Urban transport vehicles are torched and vandalized.

Five trolleys have been completely destroyed during the last year, just outside the University area
The ticket Machinery ( in the metro areas) are continously destroyed. You want numbers?

80 ticket machines have been destroyed in recent months. While a few days ago 21 ticket machines were stolen outside the University Campus.
 41 entry-exit gates have been severely damaged.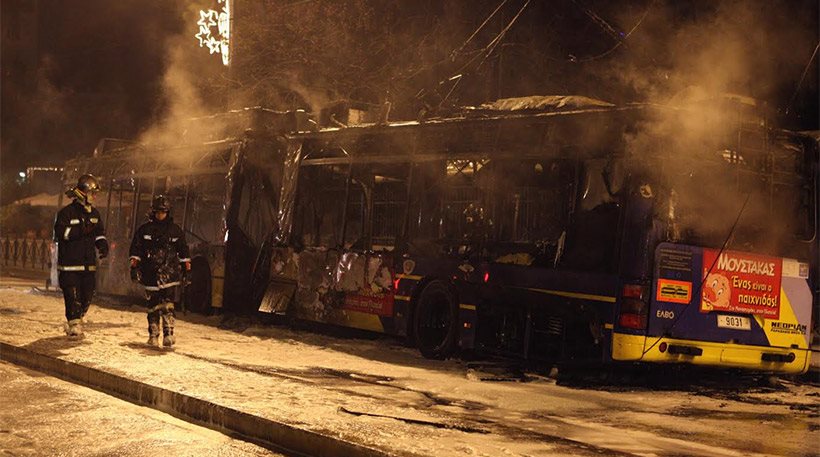 "The playground for vandals, with the backdrop of a state apparatus which is hazardously inactive. 
Lawlessness is and being generalized and crime is spread. And the worst of all is that lawlessness starts to obtain the characteristics of regularity.  The next trolley burnt  does not even cause to most citizens any kind of impression."
In Exarchia, a historic district in downtown Athens the situation is running out of control, Mitsotakis reminded.
 Αnarchist groups are marching armed and citizens might be severly beaten just because somones do not like what they say or do not m simply like their face.
 Robberies at the supermarkets in the downtown area are so common. A single store has been recently robbed six times.
 The offices of PASOK are every now and then attacked with stones, Molotov cocktails and recently Kalashnikov.
Kalashnikov guns are used against policemen by terrorist organizations and the area has become some kind of a "Holy Grail" for the authorities. 

"Which means that the residents of Exarchia now live in a peculiar "ghetto" in the center of Athens. All this is done with the tolerance, with the complicity of the Government.
- You know - that the criminals and the new generation of terrorists ( in Greece)  merge .Police has informed you on that and you know it ."
As you very well know from police, there are ( terrorist) cells in Exarchia ."
"But, you not only do nothing fro that, the worst is , you do not even allow the police to do what it should
 The reality is the reductions  on the presence of Greek Police in the streets, just serve your (leftist) obsessions...
...On the one hand we have your  monumental incompetence. And on the other hand - and this ratio is even more worrying - we have your ideological obsessions in matters of security."
Terrorist organization November 17th "Not to  be shelved " for the USA  
On the same day, Friday Feb 17th , an exclusive interview was published on kathimerini newspaper, of the ex-CIA analyst on Greece's most tough terrorist organization, November 17,  John Kiriakou , who stressed that "the November 17 case  should not be considered closed and it is not about to be shelved."
"There are still some members of the organization we don't know about. Not everyone has been arrested," said the expert analyst Kiriakou said.
"For example, we still don't know who assassinated [deputy chief of the Joint US Military Aid Group to Greece George] Tsantes and his driver [in 1983]; we don't know the identity of the woman involved in the assassination of [CIA Station Chief Richard] Welch [in 1975]. That they may have regretted their part or left the organization for some reason, obviously doesn't mean that they should be pardoned for their sins. They have to pay," Kiriakou insisted.
Categories: Greece , Politics, Your Safety in Greece , Greece and the USA