| | |
| --- | --- |
| Posted by moodhacker on February 9, 2017 at 6:45 PM | |
Greek hotels are in the top 3 regarding online reviews, according to the results of the 2017 Global Hotel Reputation Benchmark Report. The far-reaching study, which is published on Revinate, a software as a service (SaaS) company that helps hotels enhance the guest experience, analysed 70 million published online guest reviews worldwide over the last two years –nearly 40 million of those in 2016 alone.
The section on the average review scores by region and by established and emerging markets shows an upward movement across the board, proving that travelers are becoming more comfortable posting reviews.
Looking at established markets – those with more than 100,000 annual reviews – hotels in China (4.42), Greece (4.34) and South Africa (4.26) received the highest ratings,
while the United Kingdom (4.05), United States (3.99) and France (3.94) closed the ranking.
The average review of Greek hotels was up by 0.7% in 2016 compared to 2015. The evaluation of the Greek hotels is based on 343,148 reviews.
Anastasis Apartments hotel was inducted to TripAdvisor's "Hall of Fame" as one of the top 16 elite hotels in 2017.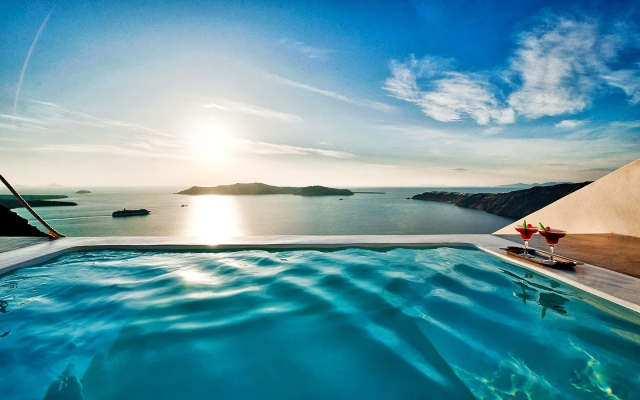 Located on the outskirts of the village of Imerovigli and perched upon the top of the cliffs of the Caldera, travelers can immerse themselves in natural beauty, privacy and peace. A TripAdvisor reviewer commented, "Hands down the most incredible place I've ever stayed. Beautiful suites, amazing breakfast, gorgeous pool, the nicest staff. The staff goes above and beyond to make your stay special."
Three reasons to book Anastasis Apartments: Sunset drinks, private Jacuzzi, five-star service
Travelers' Choice for Hotels award winners were determined based on the millions of reviews and opinions collected in a single year from TripAdvisor travelers worldwide. The hallmarks of Travelers' Choice hotels winners are remarkable service, value and quality.
"Winning a Traveler's Choice award isn't easy, as less than one percent of the 1.1 million hotels listed on TripAdvisor are award winners. That's why it's so extraordinary that these 16 hotels have won a Traveler's Choice award for ten years straight," said Barbara Messing, chief marketing officer for TripAdvisor.
"We are excited to honor the consistent excellence of these properties with a Hall of Fame award. For a couple of these winners, you can find prices for less than $100 per night, so travelers don't have to break the bank to book a once-in-a-lifetime hotel experience."
sources: protothema, tripadvisor , gtp pages
Categories: Best of Greece, Travel to Greece News , #GreeceTravel Dream