| | |
| --- | --- |
| Posted by moodhacker on December 12, 2016 at 12:35 AM | |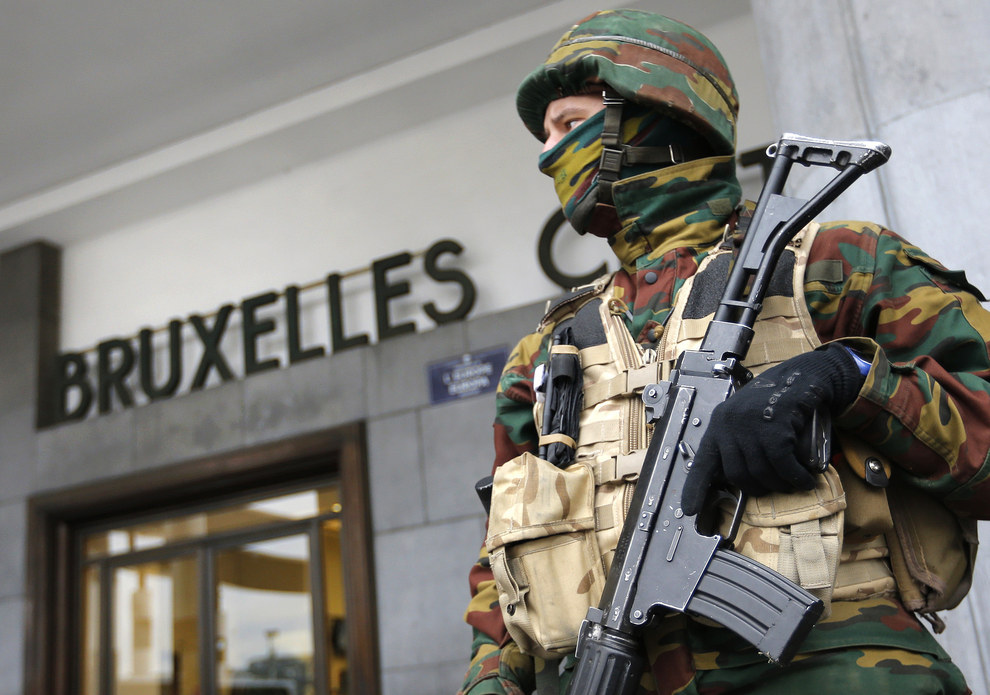 EU counter-terrorism coordinator Gilles de Kerchove told EU interior ministers on Friday December 9 that experts have found 1,750 ISIS jihadists have come back to Europe to perform terrorist attacks.
Up to 35 percent have returned – some with 'specific missions' – and 50 percent remain in the battle theatre, which amounted to between 2,000 and 2,500 Europeans.
It said even some European women and children born or raised in the so-called caliphate declared by ISIS in Iraq and Syria could pose a security threat as they may have been radicalised.
Greece, the ISIS recruit junction for Europe

Investigation held by the Greek authorities in cooperation with secret services of Italy, Norway, Germany and other EU countries provided details for jihadists recruitments in Greece over the Internet, empowered also by the presence of ISIS chief terrorists in Athens
 According to the Greek released survey, the inhuman conditions in which refugees find themselves trapped in Greek hotspots and refugee camps, desperately trying to follow their dream to cross the EU borders, provide fertile ground for jihadists to develop their radical ideas.
 Greek Intelligence Information published in the Newspaper  Vima revealed in the mid of November that  recruitments of jihadists have been allegedly made in Greece through a chat room on Paltalk website.
ISIS members living in Norway, but also in Italy have played central role on recruitments of unknown still numbers, of whose  many have been often and for certain periods of time keeping their presence in Greece..
The presence of ISIS members in Greece has been determined, as resulting from the discussions uncovered at the recruitment chat room , and this brings Greece to central junctional role in the jihaddists' rings' activity, for Europe
The issue of jihadist recruitment in Greece became known for the first time in November 2015, and  several months after. interntional  investigation led to the arrest of 13 people in Italy, Britain and Norway. 
Executives of the Greek authorities have been expressing fears for possible activation of 150 fanatical Islamists trained in Kosovo and Bosnia.
Alert Europol Warning ,December 2016, for ISIS car bombings 
Terror networks such as the Islamic State group are evolving their tactics to attack soft targets in Europe, which could see the use of deadly car bombs,Europol warned on Friday, December 2, 2016, just a week before the fatal explosion, not in EU country ironically, but in Turkey.
Jihadist attacks on EU member states have not yet involved "the use of home-made, commercial or military explosives in vehicle-borne improvised explosive devices" as in Syria or Iraq, it said in a report issued in The Hague.
But "given the fact that the modi operandi used in Middle Eastern countries tend to be copied by terrorists operating in Europe… it is conceivable that jihadist groups will use this means at some stage," the continent's policing agency said.
The 14-page report, an update on methods and tactics used by IS, also said counter-terror experts were concerned that strife-torn Libya could develop into a "second springboard for IS, after Syria, for attacks in the EU and North Africa
."Since the armed revolt five years ago that overthrew dictator Moamer Kadhafi, the North African country has been plagued by violence and political instability
."Experts expect that IS will start planning and dispatching attacks from Libya if the current phase, in which they are primarily focused on taking territory and dispatching of local enemies, comes to an end."
Europe's security forces arrested 667 suspects for suspected jihadist activities in 2015, the report added.
It's intersting that in Greee,two months earlier ring of truck thieves that was dismantled in Athensthat was selling auto parts to Islamic State and African militia groups
The Gate Greece
The jihadists recruit in Greece was allegedly made through the chat room on Paltalk website, but also two of the "mentor" colleague fighters were making visits to Greece, Algerian Umma Omar Semplal and Arfani Gandhi Bhatt
Two more of the leading members of the network, Ali Ampontoulach Salih and Abdul Tachman Nouroz had come to Greece from Italy.
Another dangerous jihadist, who was arrested a few months ago in Brussels, had crossed Aegean from Turkey to the Greek Leros island. in September 2015 to travel to Europe.
The Belgian authorities  arrested him along with Mohamed abrin, considered that participated in the deadliest attack in Paris. and Osama Kragiem, accused of having participated in the massacre of Brussels came to Europe from Leros and then travelled to Austria, Germany and then to Belgium.
According to estimates of the officilal investigations, dozens of ISIS members have passed through Greece to Europe.
More that ten jihadists tied to Athens Cell
More than ten Islamic State terrorists had close contacts with the so-called "Athens Cell," according to Brussels court documents, Kathimerini newspaper wrote in October 25, 2016

The two main members of the Athens team who supported the suicide attacks of their cohorts in Paris and Brussels were 34-year-old Algerian Omar Damache and 32-year-old French citizen Walid Hamam.
The two terrorists who were located by the Greek counterterrorism unit in the Pagkrati neighborhood of Athens in January 2015 had close contacts with eight other jihadists who passed through Greece.
According to the documents in the hands of Kathimerini, the 20-year-old Zaid Koulliss, born in Utrecht, was member of the group who organized the bloody attacks in Paris and Brussels.
On October 30, 2014 he was checked by Greek police in Thessaloniki and was arrested for not having travel documents. A few days earlier he had bought a bus ticket online from Munich to Trikala, in central Greece.
When interrogated by Greek police he confessed that three days prior to his arrest he was in Alexandroupolis where he had met with Abdelkader Benameur, a man who had been charged by Belgian authorities for propagandizing for the Islamic State.
In the fall of 2014, Benameur had met with Omar Damache in his apartment in Athens. In early 2015 he was arrested in Greece returning from the "Caliphate" accompanied by another man, 29-year-old Wissem El Mokhtari. El Mokhtari and four other men were accused by Belgian police of benefiting from the services provided by the Athens jihadist network, who had supplied them with fake travel documents.
Pictures of El Mokhtari and his four accomplices were found in a laptop Greek police seized in the Pagkrati apartment. El Mokhtari had spent a night in Oscar Hotel in Athens in January 2015, where he had used the hotel wi-fi connection to search for the counterterrorism investigations Belgian police was conducting in Verviers.
Two more French citizens had connections with the "Athens cell": 28-year-old Mouhammed Diallo and 32-year-old Mansour Niang. The two men have been convicted by a Brussels courts for participating in an Islamic State terrorist network. Both men had contacts with the two residents of the Pagkrati apartment, and particularly with Walid Hamam.
Hamam had been checked by Greek police and he had declared he was a Syrian refugee. He was taken to a detention center for illegal entry in the country.
According to the Belgian authorities, Kragiem used the Naim Al Hamed name and is considered particularly dangerous. It is investigated if he accompanied the bomber Khalid Bakraoui in the deadly metro attack.
The authorities consider that Kragem was accompanied in Leros by another man named Monir Ahmed Allatz  in September 2015. They then traveled through Austria to reach the refugee center in Ulm, Germany.  
Kragem lived in Malmo, Sweden, and was known in counterterrorism bureau of the country,  the Swedish expert on terrorism, Magnus Ranstorp told CNN. Previously he had published on the internet photos with automatic weapons from the territory of Syria. According to Le Monde, DNA of 28 year old jihadists had been found in the apartment from which the three bombers of the Brussels airport had departed .
The bomber of the Brussels metro, Khalid el Bakraoui was found in the summer of 2015 in Athens. The network Sky Italia reported that on July 23, 2015, the Khalid el Bakraoui, arrived at the airport of the Italian city of Treviso with Ryanair's flight company, coming from Brussels. The next day at 6 in the morning, he boarded from Marco Polo Airport in Venice the Volotea flight to Athens, according to the  Athens Press Agency.
Moreover, according to the also Italian La Republica newspaper a few days later he arrived in Greece via Italy and Salah Abdeslam, who was actively involved in the attacks in Paris and detained by the Belgian authorities.
The Europol estimates at 3-5000 European nationals who have joined the ranks of the Islamic caliphate.
Find out more about the critical 2015 days after Charllie Hedbo and the Brussels attack, while refugee crisis was also on the rise. Coincidentaly, not at all. really. one helped the other opening the terrorim gate in the West , find more on How all sarted in our special  page



Dismantled Truck Theft Ring in Athens Sold Auto Parts to ISIS
The ring of truck thieves that was dismantled in Athens in Oct 13, 2016  was selling auto parts to Islamic State and African militia groups, Greek police says.
The disclosure that parts from the stolen vehicles were cut in an Aspropyrgos scrapyard then were secretly shipped to northern Africa, sounded the alarm of western secret services.
The parts were put in containers and were sent to Yemen and Libya, where ISIS forces operate. It is suspected that from there they were sent to Syria.
A Greek police officer close to the investigations said that, "There are suspicions and indications that the parts of the trucks and semi-trucks the ring was stealing and then 'cutting' ended up in militia groups in North Africa and ISIS. Given the fact that Islamist fighters cannot repair their vehicles because of lack of spare parts, the fundamentalists of the Islamic Caliphate pay high prices for a container full of parts."
The ring leaders were a man from Somalia and a Cameroon native. A Greek man who was known for his affiliation with anarchist groups in the 1990s was also involved in the gang operations.
As soon as Greek authorities discovered the route of the stolen parts, they notified the National Intelligence Service (EYP). Western secret services were notified as well. Investigating the bank accounts of the two African men, EYP found that large amounts of money from Yemen, Libya and other Middle Eastern countries were transferred.
Western intelligence services confirmed that the Islamic State pays hundreds of thousands of dollars for a container full of vehicle parts.
Europol Deployed  200 to Greece to Stop New ISIS Waves

Europol secret services across EU countries would  dispatch 200 officers to Greece from September 2016  on,  in order to detect possible extremist islamic factions of ISIS operating at refugee hotspots.
The operation, referred to in an interview by Europol Director Rob Wainwright with UK newspaper Evening Standard, is in response to information that the Islamic State is planning to send militants to EU countries for retaliative action against its defeats in Syria.
The article, titled "Revealed: ISIS Sends New Waves of Jihadis to Attack Europe", points to reports that ISIS extremists have been planning "impressive" attacks in the EU   The attacks were expected to be similar to those  already carried out in Paris and in Brussels.
"The officers will be deployed to the Greek islands, maybe in Italy. There will be a second line of defense. We hope to assign some officers in the refugee and migrant reception centers as we are concerned about reports that these hotspots are targets for efforts to radicalize migrants," he said.
Wainwright points to a large number of jihadists already holding fake EU passports when traveling from Syyria to Europe. He says that in Greece, there are members of the group at hotspots and there are fears that new members will be recruited there.
Turkish secret services have been asked to assist EU intelligence in weeding out extremists involved in the radicalization of refugees at reception centers. It is believed that there are currently around 50 operations aiming to tackle terrorism in Europe at the moment.
the fake passports

Fake Passports Found at Refugee Camps in Greece Connected to ISIS in  Aug 22, 2016 according to officials from Europol who said  fake passports destined for the terror group Islamic State in Iraq and the Levant (ISIS or ISIL) have been discovered at refugee camps in Greece,  as a part of a larger investigation looking into the trafficking of fake documents for ISIS in Iraq, Syria, Greece and Austria.
"In particular they have identified fake passports in the refugee camps in Greece that were destined to supposed members of ISIS (ISIL)," La Stampa said.
Italian newspaper added that it has been a growing concern of Europol the fact that the terrorist group was shown to use Greece as an entry point from Syria and Iraq into the EU by smuggling in terrorists amidst scores of refugees by providing them with fake Syrian passports.
With these fake passports the disguised ISIS members then are able to seek asylum in other EU countries, with the potential to become partof a terror cell or act alone as a lone wolf in acts of terror.
Two terrorists carrying long knives and military uniforms arrested in Greece
A 29-years old jihadist, Mirsad Bektasevic, convicted for plotting terrorist attacks in Europe and the US , was arrested in Northern Greece carrying passport of joint Swedish and Bosnian citizenship, alongside with a a younger Islamic State recruit, also with Swedish passport, whose details have not yet been revealed , the Greek Police said on Sunday January 30, 2016
Iraqi arrest in #Athens airport with passport stolen by #ISIS
A 37-year old Iraqi who traveled from Istanbul to Athens with one of the false passports that were stolen by fighters of ISIS from Iraq, was arrested in El. Venizelos airport in February 2016
The Iraqi lived in Athens and is married to Greek woman, argued that he received the disputed passport in Athens by mail, having sent only his a photograph to Iraq ...
ISIS arrested in Lesvos, by September 2015

Exclusive information to Greek to me, talked of at least four ISIS suspects in the city of Mytilene . One of them is reportedly  have been driving a car, playing ISIS music around the tents of the Syrian refugees, identified by the Syrian due to the symbolism of wolds, and special music tune "related to ISIS Propaganda songs"
The other three have been arrested on Friday by the Police, after being recognized by citizens, while they were walking around the waterfront of Mytilene city. The symbols of their blouzes have been recognized by local citizens, and Police was informed. They were arrested by the assistance of National Intelligece Agency . They have being interrogated
Visit our Special Page on the peak of the i#refugeecrisis in August, September and October 2015, and have an idea of the No Borders Control result of that seaso on Aegean islands
sources:Ana-mpa, international press, greekreporter, kathimerini, local news sources

Categories: Your Safety in Greece , Greece 's Armageddon CrossRoads, Greece and Neighbors