| | |
| --- | --- |
| Posted by moodhacker on November 14, 2016 at 12:00 AM | |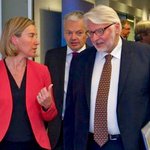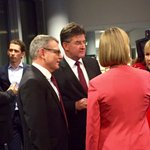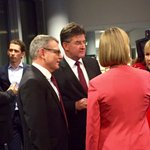 Greece among the 25 participants countries, while France, Hungary and UK snubbed  the foreign ministers' panic dinner for Trump in Brussels.
European Union foreign ministers insisted on Sunday they expected good relations with Donald Trump, after a crisis meeting that Britain, France and Hungary snubbed, but Greece participated in ,  in a move that exposed rifts over the US president-elect.
The ministers said they wanted more details about Republican Trump's plans following his shock election win, which has sparked anxiety in Europe 
Some capitals, and first amonfg them the UK,  criticized the decision to have an emergency meeting on a democratic election result in a key ally, the AFP wrote  
EU foreign policy chief Federica Mogherini called the special dinner on the eve of a scheduled meeting of the ministers on Monday
"For the moment it's not a wait-and-see attitude we can afford having, because the world goes on, Europe goes on, crisis goes on, but also opportunities we can take go on," she said.
Boris Johnson, the U.K. foreign secretary, moved quickly to distance himself from the informal summit, rejecting the invitation to join the talks within 24 hours and warning his continental colleagues to end their "collective whinge-o-rama" about the U.S. election result.
In Westminster, there is barely disguised contempt at the "panic dinner." It's seen as an absurd overreaction, a diplomatically unhelpful gathering and, ultimately, simply as part of a wider move by the EU leaders to push ahead with European integration, particularly in defense and security, according to senior Whitehall sources who spoke to POLITICO Sunday.
Britain's Foreign Office said Saturday, explaining Johnson's absence, that "we do not see the need for an additional meeting on Sunday because the US election timetable is long established.
 "An act of democracy has taken place, there is a transition period and we will work with the current and future administrations to ensure the best outcomes for Britain."
"There is a regular Foreign Affairs Council meeting on Monday where a range of issues can be discussed in the normal way," the spokesman said.
May sees the U.S. Trump's election triumph as an opportunity for the U.K. and sees no value in setting up early barriers with Trump.
 The U.K. has been buoyed by the skeptical reaction in other European capitals, particularly the French decision to stay away
 In contrast, there is deep disquiet in the Foreign Office over the role of German Foreign Minister Frank-Walter Steinmeier and the EU's foreign representative, Federica Mogherini.
 Hungarian Foreign Minister Peter Szijjarto, another no-show, said on Friday that the meeting was "completely premature" and hit out at "frustrated and hysterical statements [that] have been made in Europe" on the theme.
 "Until we know who will be in charge of the direction of US diplomacy, until the White House officially makes public its economic and foreign policy priorities, this is a complete waste of time. I don't know what we have to talk about," he said.reece's foreign Minister 
 In Paris, the French foreign ministry said Foreign Minister Jean-Marc Ayrault was unable to attend the dinner as French Foreign Minister Jean-Marc Ayrault — who has said he lost "no sleep" over Trump's election win — has confirmed he is joining Johnson in staying away from the Brussels crisis talks. 

Asked to give a reason, he told Europe 1 radio that he simply "could not make it," and that he would be present for a formal meeting of foreign ministers the day after. He had a "very important meeting" early Monday with incoming UN chief Antonio Guterres.
The three were replaced at the dinner table by their respective EU ambassadors. 
But the Greek Foreign Minister stressed in the meeting that 'Εurope should respect the US elections result"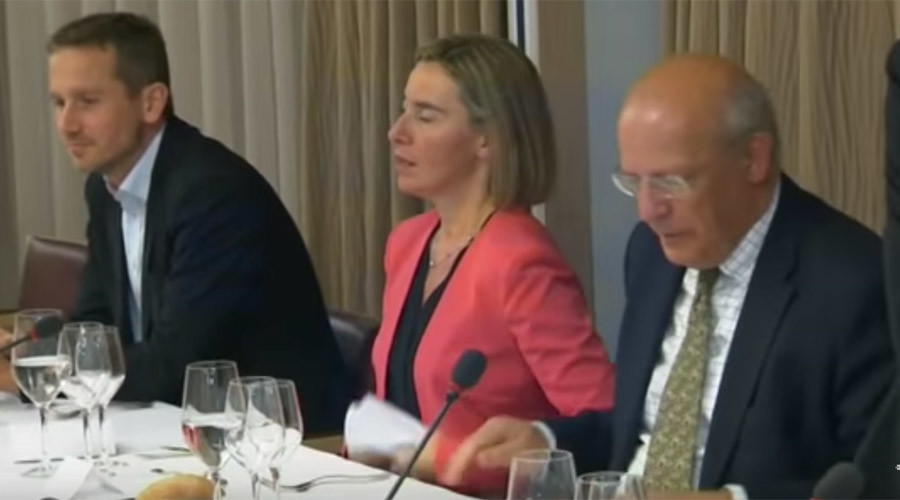 Mogherini openly  slammed British Foreign Secretary Boris Johnson's decision to sit out the meeting, linking it to Britain's referendum vote in June to leave the 28-nation EU, which has left London needing US support for new trade deals.
"I guess it's only normal for a country that has decided to leave not to be so interested in our discussion on the future of our relations," she said.
But commentators say Britain is now on particularly tricky ground as it plans to leave the EU
yet also needs Trump's backing for special trade status after Brexit
the NATO, in present and fututre 
While EU actually prepares its own Defense Headqarters the EU Commission president wants clarity from Trump on NATO, trade
On Monday, the foreign ministers  discussed  plans to boost defense cooperation — a move that Britain had long blocked — including a controversial proposal for a European military headquarters.
Britain has traditionally led opposition to stronger European defense initiatives, arguing that these could weaken the US commitment to NATO. Washington shoulders two-thirds of the 28-nation alliance's military expenditures.
Commenting on the overall trend of EU foreign ministers' attitude towards the president-elect Trump, Mogherini stated that the diplomats have managed to reach "unity" in their position.
While agreeing to "continue working on the strength of the transatlantic relation ... we all agreed on the fact that we will need to see which are going to be the policies of the next administration."
"There are certain things that have endured for decades under administrations of different parties," Deputy National Security Adviser Ben Rhodes.said Monday to the USA 
"One of the most important, he said, is the NATO alliance itself. "
Trump has said he would reconsider the alliance if other member countries don't pay their share of common defense expenditures, 2% of gross domestic product. Only five countries — the United States, Greece, the United Kingdom, Estonia and Poland — meet that benchmark.

During his campaign, the newly elected US President had  repeatedly criticized NATO, calling the organization "obsolete." He also suggested that America might not defend fellow NATO countries that didn't help reimburse the Washington for the cost of its troops and bases in Europe.
"Ι See the need for the Europeans to strengthen their defense and security agenda and cooperation, regardless of the changes in the administration in the United States," Mongherini stated , referring to President-elect Donald Trump.

Before the EU ministers entertained Mogherini at dinner, NATO chief Jens Stoltenberg warned of the dangers of American isolationism, and the impact it could have on European security, especially when dealing with Moscow.
"We have implemented the biggest reinforcement of our collective defense since the cold war.
And the United States has significantly strengthened its commitment to European security, deploying a new armored brigade to eastern Europe and delivering equipment and supplies to support future reinforcements if needed.
This is deterrence, not aggression. We do not seek to provoke a conflict, but to prevent a conflict," Stoltenberg said in an article in Britain's Observer newspaper on Sunday.
In addition to the future of NATO, the European capitals are  obviously  worried , as expressed by the so called by Mongherini  "united" European stance at  the Monday summit,  about the possibility of US-Russian rapprochement after Trump and the Russian president expressed hopes that they could work in that direction Politico wrote on Monday
The Borders and European Defense Autonomy Agreement already signed at Tsipras' Club Med Initiave  
The preparations for a common signed European countries' initiative for a "defense autonomy "  of Europe, have already been made in Athens, two months earlier than today, by the intiative of Alexis Tsipras when Mediterranean leaders had met in Athens "for a common strategy on migration and austerity , was said by then . 
"We must take measures that would contribute to a sense of security for citizens, by upgrading foreign policy and our security policy through active initiatives to defend peace and security in our turbulent region..." Tsipras  had said, but  the declaration had made clear, and was signed on that.....
Τhe European Union should:
- Ensure the protection of its external borders, through systematic controls, necessary technologies, the interconnection of relevant databases and the effective establishment of the European Border and Coast Guard before the end of the year
- Decisively strengthen cooperation in the fight against terrorism, by providing the necessary tools, especially in the fields of police and justice, as well as developing cooperation to address the phenomenon of radicalization, including through promoting a concrete initiative to enable investment in the regeneration, planning and adequate policies for the peripheries of European urban cities. Intelligence sharing should be enhanced, notably by creating a dedicated platform for real time and multilateral exchange.
- Develop European military capacities and the defence industry with a view to reach strategic autonomy, notably through a European research program and a fund for security and defence...
Categories: Greece in Europe, Greece , Politics, Greece and the USA