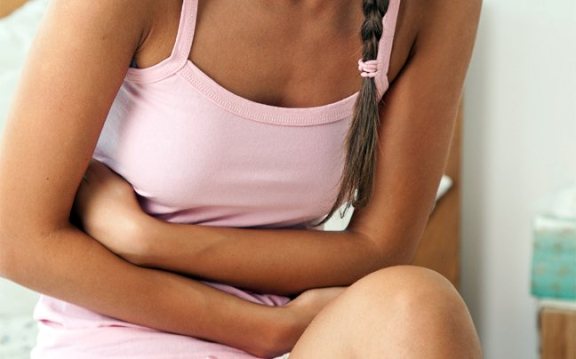 A new Salmonella enterica sub. enterica serovar seems to have caused an outbreak in Greece over two months in the first half of 2016, with 10 cases (and one asymptomatic) as of 27 May according to the latest Eurosrveillance Edition .
The findings have sparked an Alert Warning to 15 Europen Countries by an urgent inquiry (UI) that has been launched via the ECDC's Epidemic Intelligence Information System . The WHO has been also notified .No such a case has been isolated elsewhere except Greece.
The Study 
Between 24 March and 27 May 2016, eleven Salmonella spp. isolates with an unusual antigenic type were identified by the National Reference Laboratory for Salmonella and Shigella (NRLSS) in Greece. Their pulsed-field gel electrophoresis profiles were indistinguishable. No apparent epidemiological link has yet been identified; the results of a case–case study are pending.
Reported cases are mostly children, however this may be influenced by the fact that laboratory tests are performed more frequently in children with gastroenteritis symptoms than in adults with the same symptoms.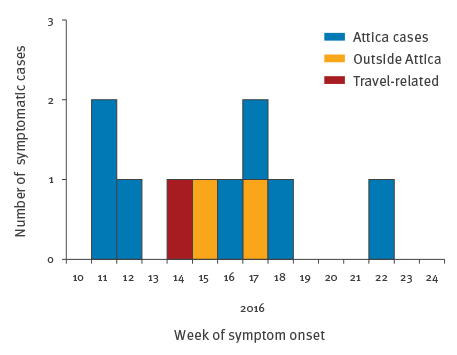 According to the database of the NRLSS and of the Veterinary Reference Laboratory for Greece, the antigenic type 11:z41:e,n,z15 has never been identified before from animals, animal products or food samples.
All cases, defined as persons with diarrhoea with the new Salmonella enterica subsp. enterica serovar (n=10), were of Greek nationality ,6 male, and 4 female.
Eight of the cases were children (15 months ̶ 3 years old) and two were adults (28̶ 60 years of age).
Cases' symptoms included diarrhoea (one case had bloody diarrhoea), vomiting and abdominal cramps, and three of them reported fever (≥38.0°C). Three cases reported relapse of symptoms and all cases will be followed up.
Three of the identified cases reported a household contact with similar symptoms (another child in the same family).
Investigation of the possible household clusters showed that they were most probably co-infected but none of the household contacts was laboratory-confirmed. 
The majority of the cases (n=9) were scattered in the region of Attica, one case was identified in Kastoria in northern Greece, and another in Korinthos, central Greece.
Only one case reported travel abroad to Torino, in Italy, five days before the symptom onset. This case stated developing symptoms before returning to Greece. 
Communication of findings to other countries
The PFGE profile was uploaded to the European Surveillance System (TESSy) operated by the European Centre for Disease Prevention and Control (ECDC) and an urgent inquiry (UI) was launched via the ECDC's Epidemic Intelligence Information System (EPIS) (UI-358). According to the ECDC food- and waterborne diseases curators, no isolates with a matching PFGE profile (XbaI.2460) have been reported to TESSy  Moreover, none of the 15 countries that replied to the UI had identified the new serovar in the past.
Three of the isolates were sent to the World Health Organization (WHO) Collaborating Centre for Reference and Research on Salmonella at Pasteur Institute in Paris, France, which is responsible for the validation of new serovars.
According to Pasteur Institute, the isolates represent a putative new serotype of Salmonella enterica subsp. enterica
 Investigation of cases
Laboratory confirmed cases were interviewed by telephone with a standard trawling questionnaire for investigating salmonellosis cases but no apparent epidemiological link has yet been identified.
Cases were geographically scattered, had not travelled inside the country,
did not have pets or contact with reptiles, and
had not participated in any common activities.
Based on the results from the trawling questionnaires, no food item emerged as possible source of the infections.
Thus, it was decided to further investigate this salmonellosis cluster by performing an analytical study. Given the highly selective nature of food-borne case reporting and in order to reduce recall bias, a case to case study for the identification of possible risk factors was designed 
A structured web-based trawling questionnaire, containing a long list of possible exposures (food and water consumption, exposures to animals, travel history, activities, etc.) was developed and distributed to all cases (both of unknown Salmonella serovar and SalmonellaEnteritidis).
Conclusions of the study 
We cannot be sure about the geographical distribution of cases, the Eurosveillance reports says . The higher number of cases from Attica may be because more isolates are sent to the National Reference Laboratory from this region. Three cases reported relapse of symptoms. Data on the severity of the disease are also gathered and a case to case study is underway. Final results are pending.
Other countries are encouraged by the Eurosurveillance Report to  contact authors in case of identifying isolates of the new serovar of Salmonella enterica susp. enterica with this antigenic type 11:z41:e,n,z15.
Even though the new worrying and internationally uknown Salmonella enterica was identified by the National Reference Laboratory for Salmonella and Shigella (NRLSS) in Greece, which is part of the Greek CDC, (HCDCP), the organization's recent Press Release on Viotia outbreak which seems to be attributed so far to Salmonella, has made no announcement of any potential relation of the Salmonella etnerica clusters to the Viotia outbreak which already counts one death since June 18 and has already sent 45 Greek adults to hospitals, and someof them to the Emergency Rooms 
The Salonella enterica study was received by the Eursuveillance edition on 03 June 2016 and was  accepted and publiced on 23 June 2016
The Veterinary Reference Centre for Salmonella in Chalkis helped for the serotyping some of the isolates for confirmation of the antigenic type.
These are the Authors' contributions
Georgia Mandilara: conception and design of the work and laboratory investigation;
Kleon Karadimas: laboratory investigation;
Kassiani Mellou: conception and design of the work and epidemiological investigation;
Leonidas Georgalis: epidemiological investigation;
Michalis Polemis: PFGE profiles analysis and interpretation;
Theano Georgakopoulou: coordination of the project;
Alkiviades Vatopoulos: coordination of the project.
The Greek CDC systematically and continuously informs especially in summer, the tourist industry personnel and the hoteliers, by reminding the proper food safety and accommodation hygiene guidelines .
Visit our Special Pages, on Greek2m.org
Greek CDC recommendations to Hoteliers
Stay connected 24/7, by greek2m on hand to keep yourself healthy , safe and informed while you are in Greece
In case of Emergency , find all the Alert Links to get help as soon as possible
Report an Emergency if that is needed through Greek to me , or call the Greek CDC operation Center 24/7
Categories: Greece 's Armageddon CrossRoads, Your Safety in Greece , Health in Greece Update