By Greece experiencing the most hard and difficult moments for its survival , information war, missunderstanding, and misleading propaganda forGreece,  in Greece, exported from Greece and imported  to Greece  have been proved to be its major enemies. Today all Greece cross hands for some mercy to be shown from the leaders of Europe and the Western world for what is a proud country's Right, a proud people's Right and a nation's sovereignity. Greece by its young and dynamic leftist leader has proved that fighting for social justice in the birthplace of Democracy is the least of humanitarianism, modern world needs to be reminded of .    

" I admire Greece for the position it has taken, that Europe has to change...." said bravely James Kenneth Galbraith  an American economist who writes frequently for the popular press on economic topics, a professor at the Lyndon B. Johnson School of Public Affairs and at the Department of Government, University of Texas at Austin.Galbraith is also a Senior Scholar with the Levy Economics Institute of Bard College and part of the executive committee of the World Economics Association, created in 2011.Listen to his interview on the video above 
But who believes whom, anyway in Greece today? And outside Greece...



For those ( quite a few) of the credible journalists and politicians left in Greece today, having survived the "Shot the Credibles" 15 recent years Stone Press Age of Greece, and also having resisted to the well paid Propaganda- Corruption trans-european mechanism, it is so obviously clear on todays' most critical moments Why nobody cannot believe anybody, or at least remeber any truth among those that are revealed in the last five months , after 15 years of massive lies on Greece's public- to export opinion.
Over the Weekend, June 20-21, Yianis Varoufakis, Greece's Finance Minister, stated openly to the international press, that his German counterpart Wolfgang Schauble DID NOT ACCEPT at all not even to let the  Greek proposal to be heard at the last Luxenbourg eurogroup, where also Christine Lagarde asked for Adults in the Room.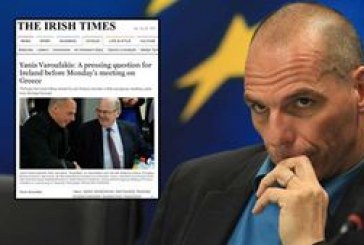 I was not allowed to share with Mr Noonan, or indeed with any other finance minister, our written proposals. In fact, as our German counterpart was later to confirm, any written submission to a finance minister by either Greece or the institutions was "unacceptable", as he would then need to table it at the Bundestag, thus negating its utility as a negotiating bid.
Regrettably, my presentation was met with deafening silence. Excepting Michael Noonan's apt remark, all other interventions ignored our proposals and reiterated the frustration of ministers that Greece had . . . no proposals.

 .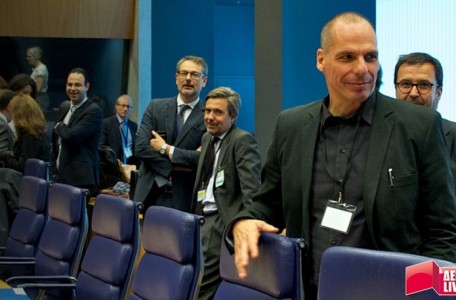 The recent  Mindblow of those IMF Propaganda fellowships
Responding to a query by Deputy Minister of State for Coordinating Government Operations Terence Spencer Quick,  the spokesman for the International Monetary Fund, said over the weekend -before Greece's Most Critical Day,Monday June 22,  that  the Fund has not held seminars for Greek journalists, though "only two journalists from Greece" have attended  the  fellowship program since 2006 that allows "small groups of journalists" to attend the IMF's spring and annual meetings
Panagiotis Roumeliotis, who has left breathless the Greek and international audience after his live( and on tv air,  live) testimony to the Parliamentary Commitee for  the Memorandum Signing conditions in 2010 and Greec's Pubic Debt  till today  and G and essentially refuting claims by a former Greek representative to the IMF.
In a letter in response to Quick, Gerry Rice said the IMF has sponsored  those felloships, but all was just that. 

Quick called on those two journalists to speak up and asked the Athens and Greek journalists' associations, ESIEA and POESY, to reveal whether the IMF has asked them to sound out reporters for interest in the Fund's sponsored programs.
Panayiotis Roumeliotis is Greece's former envoy to the IMF during the critical years of IMF memorandum . He also said, on the public hearing before the "Debt Truth" Committee in the Greek Parliament on Monday June 17, that  according to official IMF report, Greece's debt was "quite possibly not sustainable" and so its board had to change its Statute to be able to fund the country.
"They made wrong calculations and overly optimistic estimations," he told the committee, adding that "responsibility weighs not only on our country which didn't do what should have been done, but also our partners."
"If debt restructuring had taken place then [in May 2010], the 'haircut' needed would be just 30 pct … which would provide some breathing space to the Greek economy and wouldn't require a violent fiscal adjustment," he added.
" But there were secret meetings on that period of 2010, between Germany's and France's top Banking Heads and the IMF,  in order to delay Greece's debt restructuring, as it was oficially revealed by then, so as to save the two countries'  Banking economy  to be saved, but not Greece's economy at all"...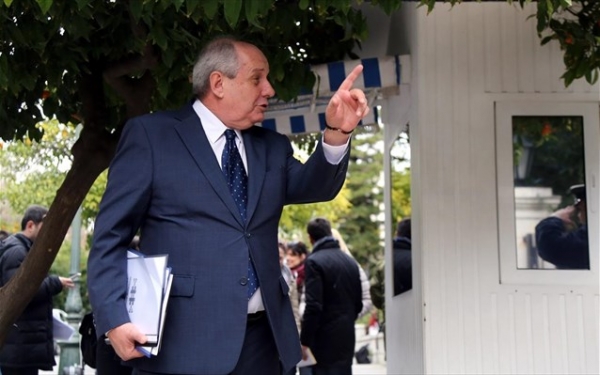 Quick: " Allow me to remind (them) to read some Greek History, at least...  This is the Greeks!"

"Mr. Samaras with his friends Simitis, Papandreou and Venizelos, led by his hands our country down to a two-speed Europe, with bankers and directors of Brussels to making their own trans-european deals for Greece, compressing the countries of the European South, and succeeded to make Greece the guinea pig of misery and poverty, "said Minister Trence Spencer Quick .




The Greeks we have recieved an unexplainable violent policy of economic aggression, by which some believe that will bend us as a nation and bow us. Obviously they have not read in the Greek history books that Greece and the Greeks however much you make them bleed,  they know to survive, to reconfigure and become creative again "...








 

(function(d, s, id) { var js, fjs = d.getElementsByTagName(s)[0]; if (d.getElementById(id)) return; js = d.createElement(s); js.id = id; js.src = "//connect.facebook.net/en_US/sdk.js#xfbml=1&version=v2.3"; fjs.parentNode.insertBefore(js, fjs);}(document, 'script', 'facebook-jssdk'));




 









Categories: Greek Social Animal , Greece in Europe