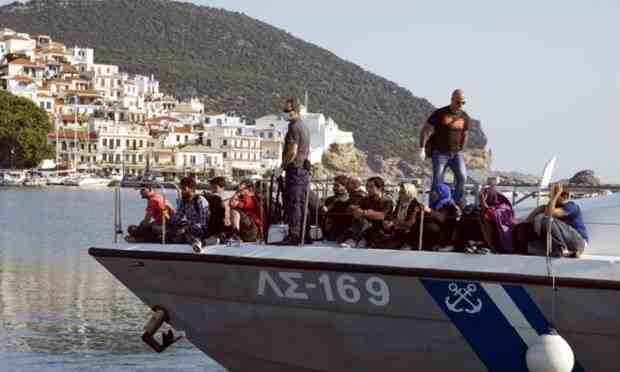 Overloading the Aegean's biggest isle 

Authorities on the eastern Aegean island of Lesvos this week issued α dire warning that the border isle turning into a new "Lampedusa" as some 3,000 illegal migrants have arrived on the island since the start of 2015.

On its announcement, the Union of Coast Guard Personnel of Lesvos points to a five-fold increase (totaling 3,000) in the number of illegal migrants arrested upon arrival in the first three months of this year compared to 2014 January-March period.
Indeed the numbers are scary: Between March 27and March 29, 620 foreign nationals reached Lesvos' shores.
Anonymous Coast guard officials reported to the Greek newspapers that the migrants told them that arrivals of illegal migrants multiplied because they heard that Greece's new governmenet is opening the country's borders, an information that can hardly be accurate, journalistically -wise, at least .
Let's say , how well organised are the migrants' populations on the trafficking roads to Greece, as to know, while travelling through miles departing from their countries, and while crossing the seas, that the new Greek government is opening its borders? (sthng that is not accurate, per se, anyway) Or is it the traffickers, or some of "leaders" of the migrants' teams that the "anonymous" coastguards are talking with ?
And how unchecked, and easy, is such information reported by the media ? Do they know the media what trafficking is about?  Are the migrants the vicitims of trafficking the international community is talking about, or are they migrants well organised, with current international news updating -while travelling the trafficking roads, and on the same moment with large view of the trafficking phenomenon acrosss the aegean borders ?  

According to the same reports, Coast guard officials on the island added, without going on record, however, that their information is that a whopping 2.5 million refugees and would-be migrants are in Turkey and waiting to illegally enter Greece and the EU.
How did they find out, really, those anonymous Coast guards, how many millions are ready to enter Greece?  
Kathimerini newspaper wrote that  Coast guard officers on Lesvos claim that the coalition's less strict approach to the issue has encouraged more migrants to travel to Greece in the hope of then reaching other EU countries.
The government decided on Tuesday to set up a committee that will meet on Friday to discuss how to deal with irregular immigration.
The Minister

Deputy Citizen Protection Minister Yiannis Panousis expressed his concern about the increase in illegal immigration, stating that
"The country can not stand other immigrants,"

The Europol Arrests

On 10-11 March 2015, Greek law enforcement authorities, with the support of Europol, dismantled an organised criminal group suspected of facilitating the entry of irregular migrants - mainly Syrian nationals - into Greece from Turkey via maritime routes. The group also smuggled victims from Greece to other EU Member States through a range of methods, and was involved in the production and distribution of forged travel documents and their trading to other organised criminal groups. The criminal network operated in Greece and was formed of members from several countries including Syria, Iraq, Egypt and Romania.
During the coordinated law enforcement action that took place in various locations in Greece, 16 suspects were arrested (2 Romanians, 2 Egyptians, 2 Pakistanis, 7 Syrians, 1 Indian, 1 Filipino and 1 Iraqi) and 20 premises were searched. Police seized significant evidence including around 280 passports and identity cards of persons from various EU countries, 82 mobile phones, 25 computers and tablets, 6 printers, various cars and motorcycles, EUR 64 000 in cash and EUR 154 714 in bank cheques and bank deposits.
This operation is an important crackdown on illegal immigration into the European Union across the Mediterranean Sea. The investigation revealed that the criminal organisation was responsible for the illegal immigration of around 350 migrants, mainly Syrian nationals. Migrants were smuggled from Turkey into Greece – to the islands of Rhodes and Kos - by using different types of boats. Once on Greek soil, migrants were smuggled onwards to other EU countries by plane - using forged and original travel documents - or hidden inside trucks which were sent to Italy on private vessels and liner ships or by land. Investigations revealed that each migrant was charged from EUR 4000 up to a maximum of EUR 9000 for the travel, depending on the destination and documents required. The criminal group could have earned around EUR 7.5 million in illegal profits.
The joint action is part of a long-running investigation into people smuggling named Operation DAIDALOS, led by the Attica Aliens Division in Greece. Europol has actively supported the investigation for over a year and provided extensive operational and analytical support to the countries involved.
"This action sends the clear message that Europol and its partners are determined to pursue those responsible for these terrible crimes," says Rob Wainwright, Director of Europol. 'The events in the Mediterranean Sea emphasise the need for a coordinated approach in targeting these criminal groups.
Don't miss our latest article on how the previous Greek governement was providing travel documents to some migrants to travel to Europe, and why Germany is furious about this, by moodhackerblog on wordpress

Categories: Trafficking through Greece Cross- life- Roads, Greece 's Armageddon CrossRoads, Greece in Europe