| | |
| --- | --- |
| Posted by moodhacker on November 18, 2014 at 3:50 AM | |
To the airports

Updated Instructions have been sent to the airport administrations and the police stations of the country by the Greek Center for Disease Control (HCDCP) for the Prevention and Preparedeness measures for Ebola epidemic that should be fortified all around the country .
Passengers travelling from non- Schengen countries should be given to complete a special form statement, for their health status in case they hva an illness, or an onset of fever .These statements, especially on the local airports of the islands, will be sent by the support of the police to the doctor of the airport.
At the ports of the country
The Greek Center for Disease Control, (HCDCP/KEELPNO) should recieve an update, two days before a ship arrives to a Greek Port, for the health of the passengers and the crew, and for any possible quarantine on board, in case of suspected Ebola case according to the new Guidelines sent by the Ministry of Health to the ports of the country for strengthening the level of preparedness for hemorrhagic fever.
On a relevant circular issued by the General Secretary of Public Health, Christina Papanikolaou, the travel time from departing from the the nearest port of the affected areas to the arrival of a ship in Greece is estimated to 10 days
Since the incubation period of Ebola virus is 21 days, the possibility of an Ebola case arrival by ship to a Greek port, does exist. Consequently, it is an obligation of all the ships of international navigation, before arriving to Greek ports, to sent a Maritime Declaration of Health signed by the captain of the ship, which should be accompanied by the list of the ports that the ship has approached, and a list of the crew, passengers or other persons on board.
In cases that an infectious disease is present, and also in the cases of cruise ships arriving to Greek ports from Ebola affected countries, the Maritime Declaration of Health should be sent 48 hours prior to arrival, by an 24 hours update, while the crew lists have to contain, besides names and contact numbers, the place of residence in Greece.
The circular outlines the actions that should be taken during the trip in case of an Ebola suspected case to prevent transmission of the virus, and for the quarantine proceedures inside the vessel of the crew members and those who came in close contact with the patient, while the ship apporaches the Greek port.In case of a confirmed infection by Ebola, quarantine lasts 21 days, specifies the Circular of the Greek Ministry of Health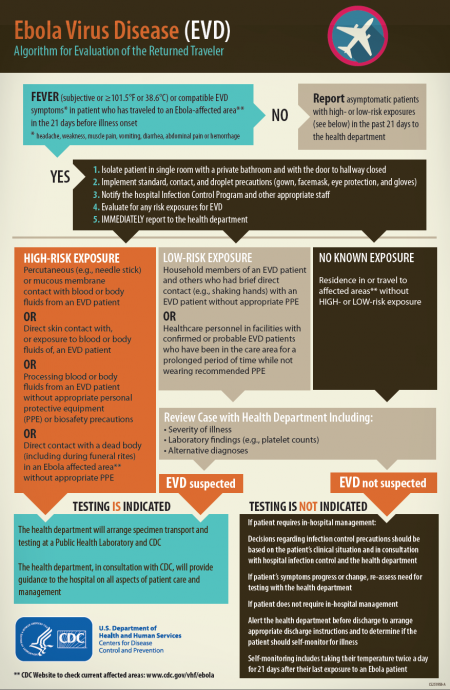 Categories: Health Travel &Travel Health in Greece , Health in Greece Update, Greece 's Armageddon CrossRoads