| | |
| --- | --- |
| Posted by moodhacker on February 25, 2014 at 2:05 AM | |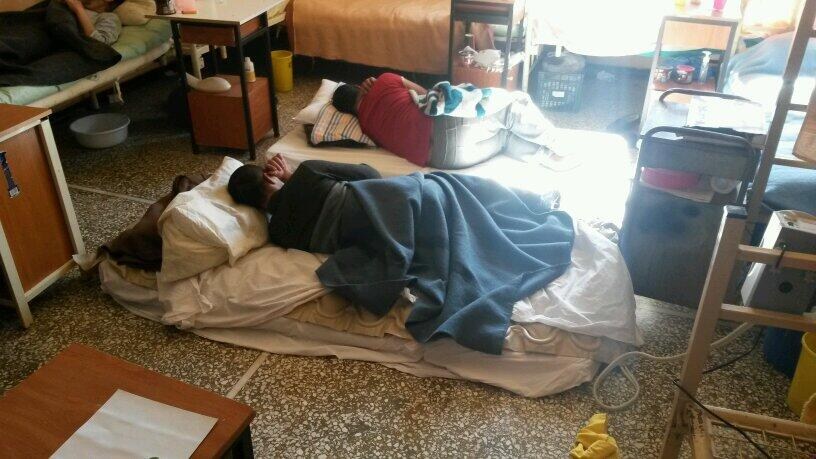 Tuberculosis patients and  some serious multi-drugresistant tubreculosis cases, HIV positive patients,   Heart and kidney patients, and all the kinds of  patients, suffering from diseases, contagious and chronic, are stuck together in this warehouse of souls . Thehttps://twitter.com/kolastirio" target="_blank"> "kolastirio" in greek, is what they call the "hellhole" , the greek prisons' hospital in Korydallos area, where prisoners are thrown in the name of this government's juridical Justice, is now raising flag, screaming in despair to the international community for the human righs that do not any more exist on this morally and ethically , at least, bombarded country.
Here, in the hellhole of European Greece , the ill prisoners call the district attorneys and the political personel  to come and walk around...
The inmates of Greece's only  prison hospital decided to tell their story to the world . Many of them were on hunger strike and were refusing medication to protest severely overcrowded conditions they say are leading to the spread of diseases.
There are 6-7 multidrugresistant tuberculosis cases among Georgian prisoners, according to the first epidemiological assessement of the Greek CDC medical teams, (even though the Greek CDC, does not "run" the Disease Control Program in the prisons, because the Big European Fund of the National Strategic Reference Framework (NSRF)  is given to the Drug Control Orgsanisation OKANA!)
Korydallos prison hospital, west of Athens, is designed to hold 60 men but currently houses more than 200, according to prison staff and inmates. 180 are HIV positive, according to the Greek CDC.
Others have cancer, kidney failure and heart problems and are held in close quarters with those suffering from communicable diseases such as tuberculosis, hepatitis and scabies.
Three inmates at the hospital told the AP by phone that 178 prisoners began refusing prison food and medication on Feb. 16, after two cases of tuberculosis were identified among inmates who had not been isolated from other patients.
They said 150-160 of the protesters began a full-blown hunger strike Sunday, while those too severely ill to participate were eating only bread. The protesters were also refusing medication, including antiretroviral and cancer drugs.
The inmates asked that their names not be used since they were not permitted to speak to the media. They said a Justice Ministry response under which certain ailing inmates would be released early under strict conditions was not enough and would only lead to the release of about 30 patients.
Protesters posted photos on social media showing inmates sleeping on double bunks packed tightly together and on mattresses on the floor. One ailing man lies on a bunk, a drip in his arm fixed to a mop handle due to lack of equipment. The posters said the photos were taken within the last week.
The head of the prison guards' union, Spiros Karakitsos, said they accurately depicted current conditions.
"It's a shocking situation," Karakitsos told AP.
The Council of Europe's human rights commissioner, Nils Muiznieks, tweeted he was "worried at reports of degrading conditions of prisoners" at Korydallos hospital and that a quick resolution was necessary.
Chronically overcrowded, Greek prisons have suffered an increase in inmate numbers and decrease in staff and funding over the past few years, exacerbated by the country's severe financial crisis. Korydallos hospital has seen a dramatic increase in HIV positive inmates, who are held there even if they are not sick.
The European Court of Human Rights has ruled several times that conditions in Greek prisons and police holding cells constitute inhuman or degrading punishmen
The social media campaign launched by the prisoners during the weekend 223-24 feb, achieved a successful awareness on which the Comission of Human Rights immediately responded
Nils Muiznieks ‏@CommissionerHR 3h
Worried at reports of degrading conditions of prisoners #Korydallos jail hospital #Greece. Quick resolution necessary http://bit.ly/1o0EUeb
Categories: Greek Social Animal