| | |
| --- | --- |
| Posted by moodhacker on October 9, 2013 at 6:25 AM | |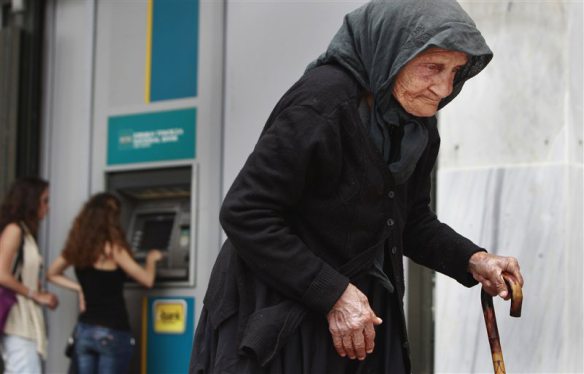 On the first  in the world  Index which scientifically ranks and accesses the quality of ageing , Greece ranks at nr.58 among 91 Countries. First stands Sweden ,3rd Germany, USA is at nr.8, and close to the maps of eastern european countries and developing ones , managed to come Greece, by recent findings, even though a key factor for the studies' measurements has changed over the last year, beween 2012-13.
The income security for the elderly , which on the Index published, was marked as  the best advantage that Greece was providing to its  elderly population does  really day- to-day dissapear from the lives, and, basically, from  the psychology and the mental  of the  third-aged Greeks. Especially in 2013, especially the pensions of the old ones have dramatically  been cut off.
There is a Human Right for Older People! 
The Global AgeWatch Index who is first published this year by the HelpAge International and the support of the United Nations Population Fund (UNFPA) undelines the  fundamental human right  that older people have to their share of resources, enshrined in the 1948 Universal Declaration of Human Rights. "Old age may be a time of opportunity, but only if attitudes to ageing and older people are positive and non-discriminatory. On ethical and humanitarian grounds, changing attitudes to old age and devoting resources to older people is unquestionably the right thing to do because it is fair and just"  the GlobalAgeWatch Index's authors conclude.  
In Greece,however, none even dared to notice(!) this report or the existence of  such an Index, which is an extension part of the Human Developement Index.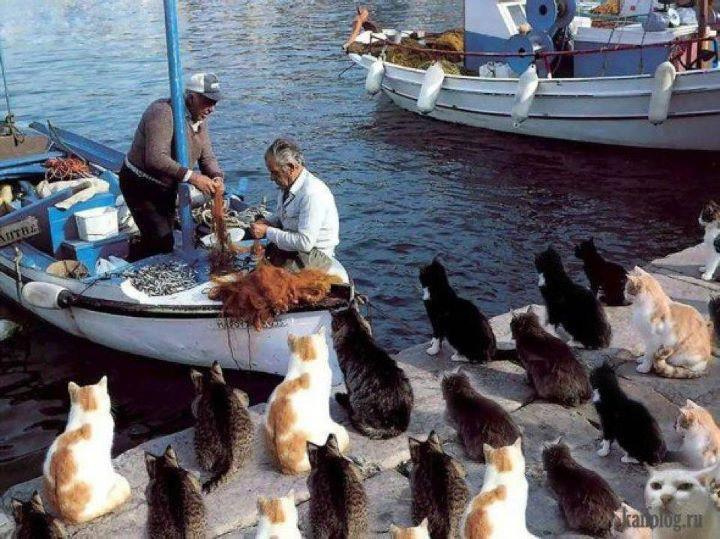 But Greek centenarians do exist! What on oxymoron...
 Successful ageing in Greece by a remarkable number of Centenarians and Nonagerians,still  "shines" on some spots of the country, as on the Greek island Ikaria,  which is now considered a member of the group of "blue zones" (among less than 5 other places on globe)  Sardinia, Okinawa in Japan, Loma Linda in California and Nikogia Peninsula in Costa Rica. In all these areas the percentage of residents over 90 years old is much higher compared to the average years of life in developed countries..                                                                                        
Ikaria is a "Blue Zone", one of a handful of areas throughout the world where longevity rates are so high that meet the  "statistical anomaly" . By their true secrets to longevily still not extensively uncoverd, Ikarians happen to live longer than almost anyone else in the world. According to Blue Zones research, Ikarians are a third more likely than Americans to reach the age of 90 , by their health presenting less degenerative diseases like cancer, cardiovascular and dementia. How they do it ,the Geek Centenarians? Go to Wellcome to the Greek Blue Zone, You can stay forever...!
  What of an ironical policy of Europe against it's rare nonagerians , to create the most  "successful environment|" ( financial and political -wise ), so that these humans will easily dissapear from such lands? Is this an oxymoron ( terminology on wikipedia) of Human Politics against some very  few Special Species,  or not?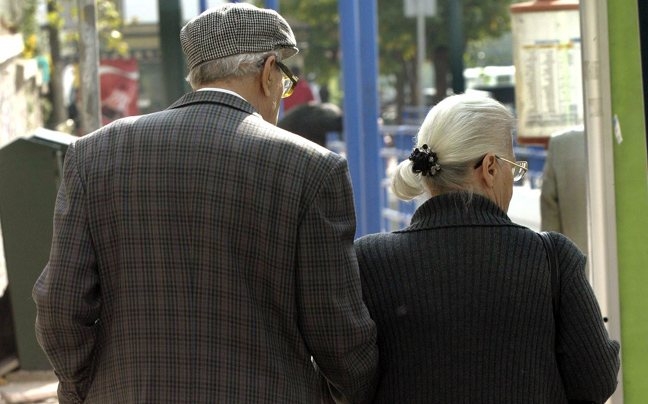 GlobalAgeWatch on austerity Europe
According to the full Insight Index Report, especcially on Europe  "current austerity programmes mean that, although pensions have been maintained, many other cuts have contributed to rising poverty and fewer services for older people. The results of the Index indicate that current ageing experiences across the European region vary greatly, and for certain governments, dealing with the challenges of societal ageing will require significant effort and political will. Overall, the quality of life of older people is higher in Northern and Western Europe, followed by Southern and Eastern sub-regions. "
A glance through the rankings across all four domains confirms that the top Northern and Western European countries have a consistent history of beneficial public policy interventions relating to social protection and healthcare, together with high levels of individual participation and life satisfaction.This year, Sweden (that ranks on number 1) is celebrating the centenary of its universal pension, a system put in place at a time when the country was what would now be called an "emerging economy". Similarly, Norway ( the Numer 2) introduced its universal rights-based pension in 1937, long before it achieved its current high-income status
Greece , the worst of Europe for the elderly, among worst on globe
In Southern Europe, Cyprus (57) and Greece (58 ) are the lowest-ranked European Union (EU) countries of the sub-region. In Greece, this is due not to its income security ranking, but to older people's limited sense of individual security and civic freedoms. Cyprus does comparatively better with respect to health status indicators and in terms of its enabling environment, whereas Greece scores better than Cyprus with respect to the income security of its current generation of older people. However, overall in the Southern European countries, older people accord high rankings to social connections, consistent with the view that family ties remain strong in these countries.
On the maps and the Index analysis, Greece stands ( even on color map) closer to Eastern European,, and Eastern  Countries, than the countries of the West .Even Albania ( on Numenr 32), is found a better plac e than Greece to be aged, when  behind Greece follow ,Ukraine (nr. 66), Russia (, nr. 78 )   and Montenegro ( at nr.83), countries ranked particularly low in the Global AgeWatch Index.
What does Greece's ranking reveal
Domain 1:" Income security Income security describes access to a sufficient amount of income, and the capacity to use it independently, in order to meet basic needs in older age. Lack of cash often leads to other forms of deprivation and experiences of discrimination, humiliation and rejection, especially for older people living in urban areas without other household members to support them. In rural areas, family support is usually vital for older people who have no land or are too old to work. Many people in developing countries have no pension and for those in developed countries, pensions are often low. Inadequacy of pension income often reduces an individual's standard of living to or below the poverty line.", according to the Index.
        On this domain, Greece is supposed to have done better, ( by ranking nr.25, when Sweden on top bringing numer 8 on Income Security).
But experiencing the true everyday life in Greece, it's obvious, that the actual income of the elderly today, is cut to less than half, and often, to zero. Where could next year Greece find herself on the New Index?.
On the other Domains , these of Health , Education & enabling Greece goes among the worst rankings globally :
 Domain 2: Health status Advancing age is linked to physical frailty and is also closely associated with risk of the onset of ill-health and disability. Greece ranks47 on Health Status , by Sweden on first place bringing number 7 
Domain 3: Employment and education This domain describes elements of the coping capacity and capability attributes of older people. Greece ranks 61 on Employment and Education Domain, where Sweden on top brings ranking 5 
Domain 4: Enabling environment Older people want to have the freedom of choice to live independent and self-reliant lives.HereGreece brings nr. 82(!) among the 91 countries, where Sweden again bring 5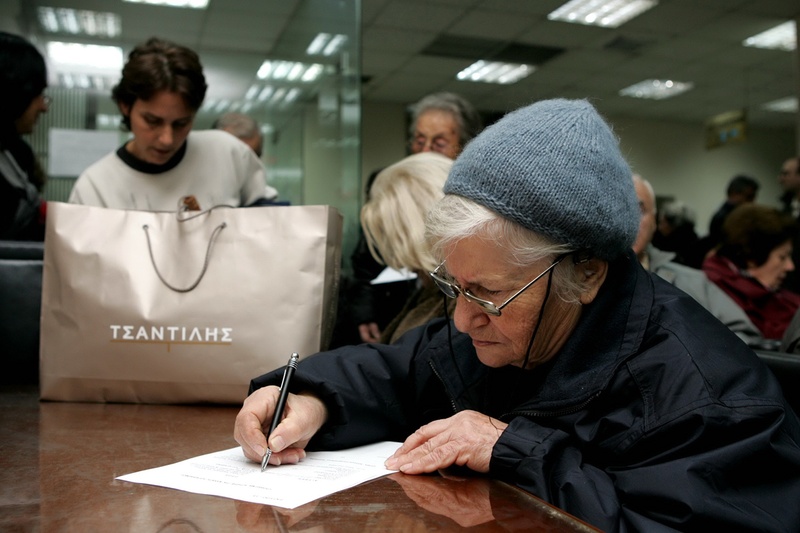 the Enabling environment  for older people in Greece, Greece's worst-ever pick
Index on Enabling Environement, Domain 4: "Older people want to have the freedom of choice to live independent and self- reliant lives. They wish to feel safe in the environment they are living in and have access to good public transport. These aspects of societies affect individuals but are based on relationships, connected to ideas of social cohesion and inclusion.
 4.1 Social connections looks at the perceived support available from relatives or friends.
4.2 Physical safety gives an idea about how safe people feel in their neighbourhoods.
4.3 Civic freedom assesses how much control older people feel they have over their lives.
4.4 Access to public transport measures both access to and quality of transport, which is key to older people's quality of life, enabling them to access services such as healthcare and shops, as well as friends and family
Look how Greek Poverty made Headlines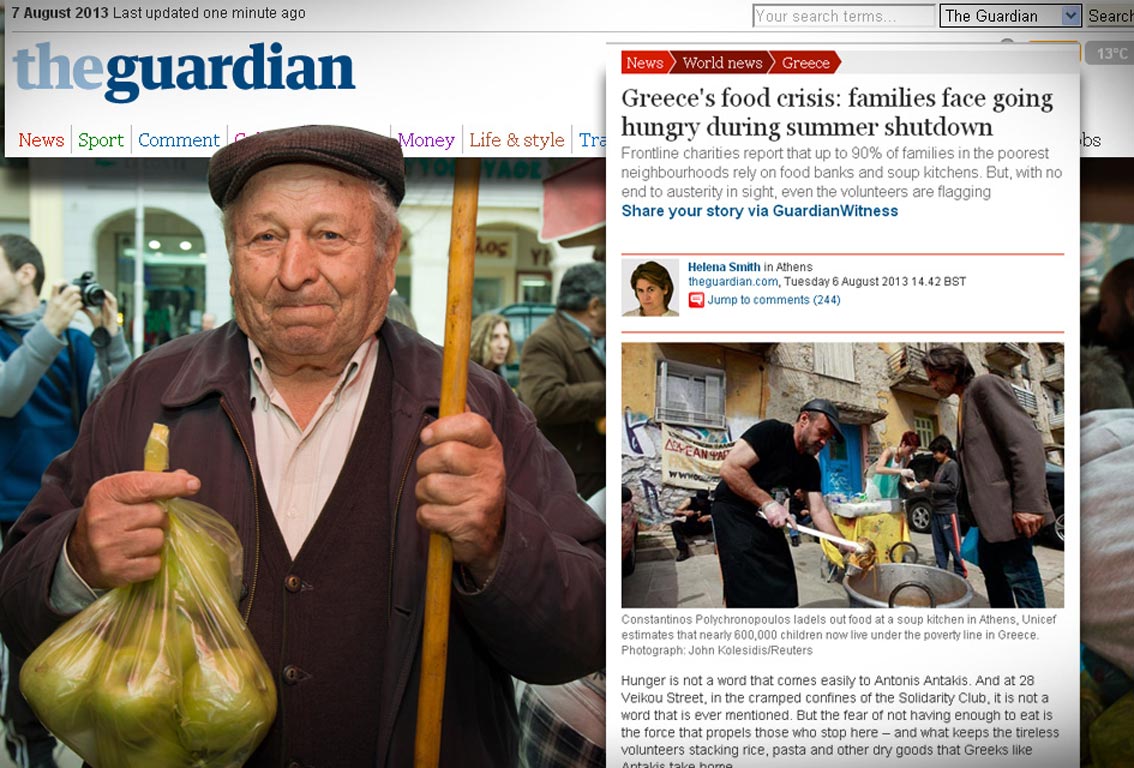 Feel some empathy already? Go to our Empathy Wanted New Page. It's a greek word that Greeks haven't even heard about ... 
The Best 10 Countries worldwide on Ageing by the GlobalAgeWatch  Index 
Sweden (1) features in the top 10 in all four domains: Income security, Health status, Employment and education, and Enabling environment.
The other places in the top 10 are filled by two more Nordic countries –
  Norway (2) and
  Iceland (9),)  
three from Western Europe 
   Germany (3),
    the Netherlands (4) and
    Switzerland (6),
two North American countries –
   Canada (5) and
   the USA ( nr, 8 ), and
two countries in Asia and the Pacific –
  New Zealand (7) 
   and Japan (10).
Older people fare less well in many African and East Asian countries – as well as in Jordan (88 )   Pakistan (89) and Afghanistan (91) 
No money guarantee for the GlobalAgeWatch
But  a country's GNP, finally,  neither guarantees good living for older people nor is an obstacle to improving their situation. Older people in poorer countries often have better lives on average in several key respects than those in somewhat richer ones.Also older people in some low- and middle-income countries fare considerably better than older people in some wealthier countries. The report concludes that money isn't everything (limited resources need not be a barrier to countries providing for their older citizens), history counts (progressive social welfare policies across the life-course are likely to reap benefits in older age), it is never too late for "Leaving None behind"
Categories: None