The Sunday of the Holy Myrrhbearers is one of the major feasts of the Holy Archangel Michael the Taxiarch, Mantamados, Mytilene (Lesvos). This is because that church was consecrated on this day. Thousands of pilgrims flock to celebrate this feast, seek the interces...
Read Full Post »
An increase of 10 pct was recorded in the number of tourists visiting Corfu to spend their Easter holidays, Corfu Tour Operators Chairman, Vassilios Kaloudis said on Wednesday in an interview with the Athens-Macedonian News Agency .
"Cor...
Read Full Post »
 Mani, Peloponese Greece, Photo by Kostas Thomakos fb
The Easter painted Greek Land 
On Good Friday , the night befoire Jesus' Resurrection night in Greece, girls and women around the country, on the isla...
Read Full Post »
Easter is close , and traditionally , Greeks are fasting for 50 Days , since the "Clean Monday" Day,   till the Easter Day that celebrates the Resurrection of Jesus Christ .  
According to tradition faithful Greeks will not consume meat, eggs and dairy products to "clean their body and soul" for Easter.
Read Full Post »
Chef Vassilis Kallidis and the Überness team have taken over three dilapidated butcher shops in the Athens Central Market of Renti and have transformed them into an avant-garde pop up eatery that pays homage to the roadside food trucks of Greece.
Leaving the basic elements of the original stores untouched, the concrete walls, the rusty beams...
Read Full Post »
Turkish leader Recep Tayyip Erdogan will hold a Muslim prayer service at Hagia Sophia, on Good Friday with Muslim religious leaders.

Erdogan, who has favored Islamic claims in Turkey, will visit the Hagia Sophia—a building that was originally a Christian church—on the day when the Christian world observes Good Friday.
Turkey's President Recep Erdogan has announced his in...
Read Full Post »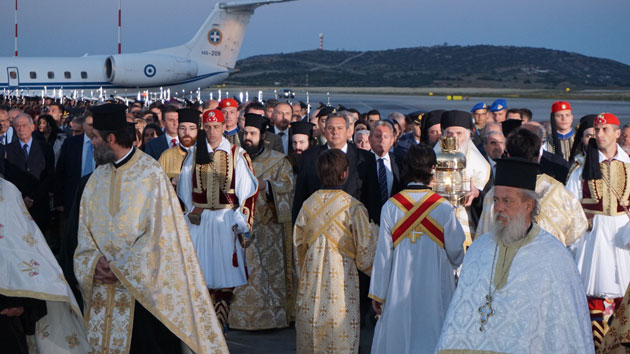 SYRIZA MP blasts tradition of transport of Holy Fire to Greece
Leftist SYRIZA MP Makis Balaouras criticised the Greek state for continuing to adopt the tradition of receiving the Holy Fire from Jerusalem during Easter as a head of state.
"An object, the fire, the Holy Fire arrives. It is something that does not happen in a civi...
Read Full Post »
The faithful Christians all over Greece follow the Holy Week ritual devoutly, giving themselves body and soul into the culmination of the Passion of Christ and finally rejoicing in His Resurrection. Let's take a deeper insight into ancient-old rituals and traditions…
On Maundy Thursday the Service of the Holy ...
Read Full Post »