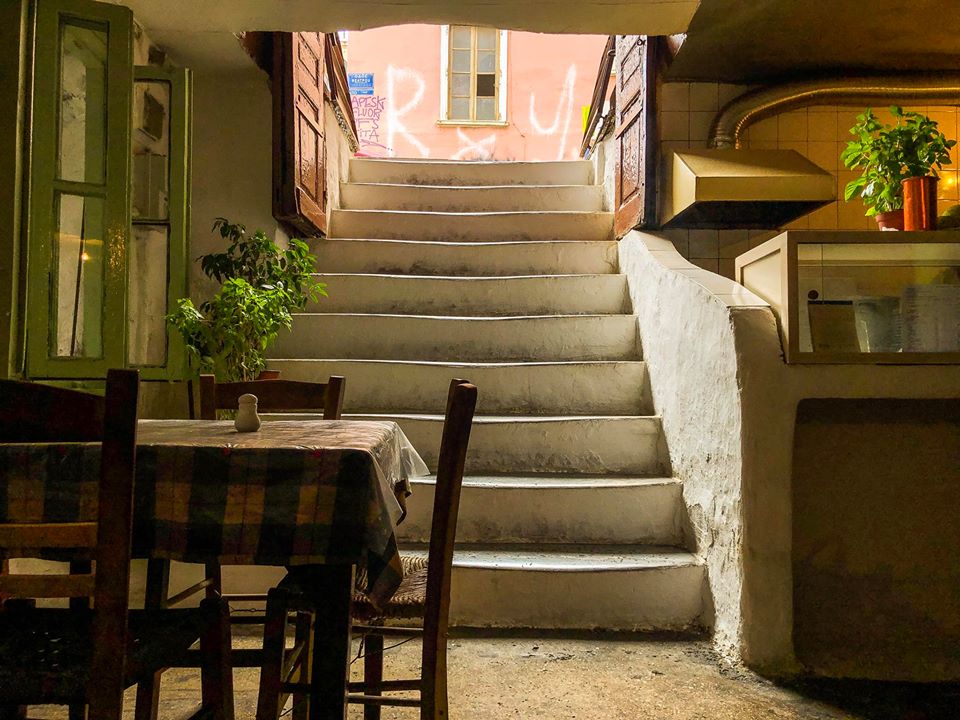 In business since 1887, Diporto – a defiantly traditional spot in downtown Athens – has no sign and no menu. The staff doesn't speak a word of English, and you might have to share a table with eccentric old men who look like they stepped out of a folk ballad.  But if you ever wondered what ...
Read Full Post »
From the city center to the coast, cycling lovers will be able to ride across Athens after municipal authorities announced that the city will soon have a complete bike network in place.
The new bicycle route will connect with the existing Gazi-Faliro route and is set to go through the central Athens neighborhoods of Kypseli, Ambelokipi, Exarchia, Kolon...
Read Full Post »
Socrates' teachings on Stoicism actually form the basis of Cognitive Behaviour Therapy (CBT), an effective modern tool used widely today to treat psychological issues
Democracy, medicine, philosophy, science, technology, athleticism, gastronomy, art… all these are constructs that people currently still strongly connect to ancien...
Read Full Post »
Micromeria Acropolitana was first collected in 1906 from the Acropolis, Athens and considered extinct until its rediscovery in 2006, a hundred years later. Today  It has survived in its original habitat, the natural rock of the hill. 
The Micromeria Acropolitana (Lamiaceae)  ...
Read Full Post »
 
".....As the table slowly rotates, you will enjoy a bird's eye view at 50 meters while dining in the air, admiring amazing views of the illuminated Acropolis and Lykavitos", discover Greece recenty wrote, presenting the Dinner in the Sky project which the traveler can find in 50 cities of the world, and now also in Athens.
Dinner in the...
Read Full Post »


A significant  British survey has found almost half of respondents stated their most favorite childhood memory is one of a family vacation, and more than half  of respondents sa...
Read Full Post »
The bay leaf (also known as Bay Laurel) has a rich history in Western culture. Bay is a symbol of the Greek god Apollo. In fact, his crown is constructed from bay laurel's slender, slightly silvery leaves. In Ancient Greece, wreaths made to look like Apollo's were given to victorious warriors, winners of s...
Read Full Post »
Ellados Gefsi annual Greece's exhibition will be held for the third year iin May 2018 in Athens,  promising to share with international visitors the real Taste Of Greece by the authentic and traditional experiences  of Greek Gastronomy,...
Read Full Post »
Forget tourist buses and pre-arranged hours for guided tours. Now all the city and its most beautiful spots are within your reach in the most economic and ecological way.

Whet...
Read Full Post »
The island of Lesvos, known for its natural, unspoilt beauty and positive energy; a cultural crossroad that promotes an expression of new learnings, freedom and peace,  invites international travelers to the 1st Lesvos Euphoria Festival, which will take place on the island and the multiple  "euphoric" spots the ...
Read Full Post »
The Greek countryside is rich in aromatic and healing herbs, which are often more potent than their counterparts elsewhere due to the country's climate and soil conditions, ANA reports.
"Most of ...
Read Full Post »