" Europe today has to confront the walls and the dividing lines that keep  rising within its territory, and which are  incompatible with our common European vision and the Europe of open borders and equal opportunities we have all dreamt of, and this, today brings Europe...
Read Full Post »
It was the Greek government that chose to cut pensions to meet fiscal targets, not the creditors' demand, not even suggestion, German Finance Minister Wofgang Schaeuble made clear in an interview published on Saturday July 1, releasing to the Greek people  the dark side of  the leftist government's handling of poverty and the new fiscal ...
Read Full Post »
Piraeus in Greece recently received the title of "URBACT Good Practice City" by URBACT, the EU learning and exchange program for cities, for its Blue Growth Initiative.
Blue Growth is an umbrella of actions aiming to promote business ideas relating to the sea and aquatic resources.
Launched this year, the URBACT label celebrates practical solutions cities ...
Read Full Post »
By Deutcshe Welle, AntheeCarassava 
From anarchists to nihilists, militant Greek youth are increasingly networking with other global forces of violence. Left unchecked, they risk turning into loose cannons, disregarding all costs, reports Anthee Carassava.
Greek extremists are fleeing to Syria to fight against the "Isla...
Read Full Post »
Harvard University's FXB, Center for health and human rights, recently published the results of a research on abuse and sexual exploitation of refugee children in Greece.
The report Emergency Within an Emergency documents an alarming pattern of exploitation and abuse,...
Read Full Post »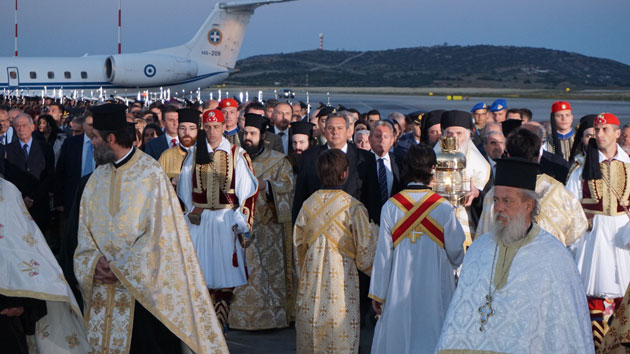 SYRIZA MP blasts tradition of transport of Holy Fire to Greece
Leftist SYRIZA MP Makis Balaouras criticised the Greek state for continuing to adopt the tradition of receiving the Holy Fire from Jerusalem during Easter as a head of state.
"An object, the fire, the Holy Fire arrives. It is something that does not happen in a civi...
Read Full Post »
PM Alexis Tsipras and his wife Bety Baziana in Rome , March 25th, the Greek National Independence Day , dressed both in the colours of Greek flag 
Europe is not defending its own accomplishments, its heritage and social model and has surrendered to the International Monetary Fund (IMF), which explains its existentia...
Read Full Post »
Pensions to be cut, Negotiotions with lenders dissapointing
The first day of negotiations on the bailout program review between Greece and creditors on Tuesday bore no results as the Greek side disagreed with the cost of the proposed measures and their implementation.
The Greek ministers who participated in the meetings at ...
Read Full Post »
By a fully updated report on the worrying rise of violence and crime in Greece , Greece's Opposition party leader Kyriakos Mitsotakis, blamed Greek PM Alexis Tsipras in Parliament for his government "showing tolerance to crime and sympathizing the terrorists, while letting the streets with reduced presence of police, allowing criminals to merge with new te...
Read Full Post »
Gucci's luxury brand offer to the Greek State of a million plus dollars  to hold and film an international fashion show atop the Acropolis, with the Parthenon as a backdrop, was  rejected on Tuesday February 14, by Greece's Central Archaeological Council.,  which...
Read Full Post »
The "peaceful"  negotiation the Greek Health Minister tried to have with the antiauthoritarion anarchists who invaded and occupied his office last week  turned out to be the bomb that deto...
Read Full Post »
Greek Prime Minister Alexis Tsipras has said he believed the country's drawn-out bailout review would be completed positively but said Athens would not accept "illogical" demands by its lenders.
"We are ready to discuss anything within the framework of the (bailout) agreement and within r...
Read Full Post »
An "epidemic" washing over other European countries may see the end of the EU, warned Yanis Varoufakis, Greece's former finance minister in a fiery interview/ to be shown by Al Jazeera TV on Sunday February 12.  
Seven years after European Union bailed Greece out in controversial circum...
Read Full Post »